Multipurpose Responsive OpenCart eCommerce Themes
Everyone wants to create their own store, so that they can sell their products to the vast audience with the help of internet. Creating an online blogger store is kind of difficult job. But not any more because, today we present you 12 Best Multipurpose Responsive OpenCart eCommerce Themes. With help of these themes you can create your online web store very easily. Nowadays Online shopping has became lifeline of our daily life. Whether its a pencil or big appliances, people buys stuffs from various online marketplaces, and why not? after all it has become one of the most favorite topic and genre on the internet.
These themes are packed various features that will help anyone from a beginner to a pro or a developer to setup an online shop. All of these themes are loaded with some the most useful features like drag and drop, sliders, category wise menu, cloud zoom, fast loading, easy to customize, ajax search, easy cart and checkout setup area etc.
Multipurpose Responsive OpenCart eCommerce Themes in 2018
1. Sellegance – Responsive and Clean OpenCart Theme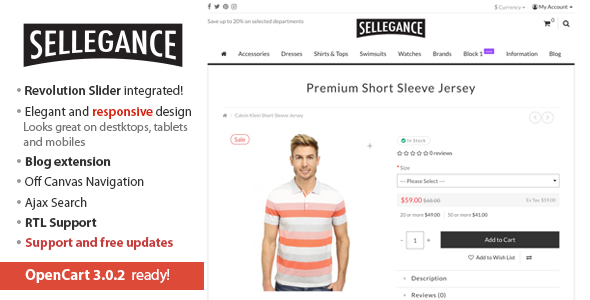 Sellegance is a multipurpose, responsive, elegant and easy to install OpenCart theme. It comes with advanced admin module and has extremely customizable, easy to use and fully responsive design. This theme is built on Bootstrap 3 Framework and works perfectly on desktop, tablets and mobile phones. This theme is suitable for every type of store. With its clean design and lots of features, you will have a very profitable online shop in no time and it is suitable for every type of store. It packs some of the best features like revolution slider, categories accordion, cloud zoom integrated, custom homepage slideshow and many more.
2. Sellya – Multi-Purpose Responsive OpenCart Theme
Sellya is 100% Responsive and Retina Ready Multipurpose Opencart Theme suitable for any type of store. It uses Bootstrap and it's made by using the latest HTML5 and CSS3 features. It has features such as Admin panel with 300+ custom build options allows you to do extreme customizations without knowing any HTML or CSS. You can change over 130 colors, apply 275 background patterns of 8 areas or upload your own, choosing over 600+ fonts and very many theme settings. Great looks on desktops, tablets and mobiles.
3. Pav Fashion Responsive Opencart Theme
Pav is a minimal OpenCart theme built with Bootstrap 3, perfect for selling fashion items with a beautiful and clean design created with usability for both mobile and desktop. This theme is perfect solutions for Fashion Shop, Clothes Store, Shoes Store, etc. It comes up with pure white and black color combination, which perfectly display's your amazing products. With perfect combination of colors, textures and ideal arrangement makes online store more elegant, glamour, luxurious and attractive.
4. Bigshop – Multi-Purpose Responsive OpenCart Theme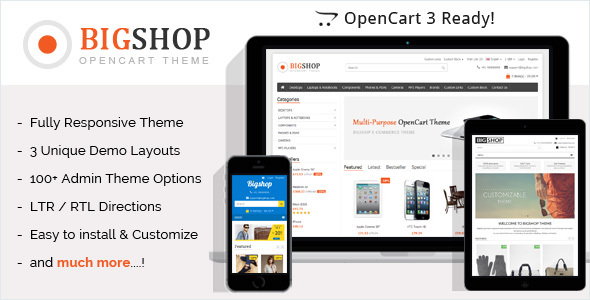 Bigshop is the best all-in-one Multipurpose responsive Opencart Theme powered with the best Opencart version 3.x. It is very easy to customize theme which allows you to build professional Home page just in minutes. You can easily change category display style directly from the theme panel itself, You can select boxed or wide layout type. also, you are eligible to set a background color, background image, or pattern for the boxed layout from admin panel. It has been built on bootstrap which makes it mobile friendly and works fine on all type of devices.
5. OXY – Multi-Purpose Responsive OpenCart 3 Theme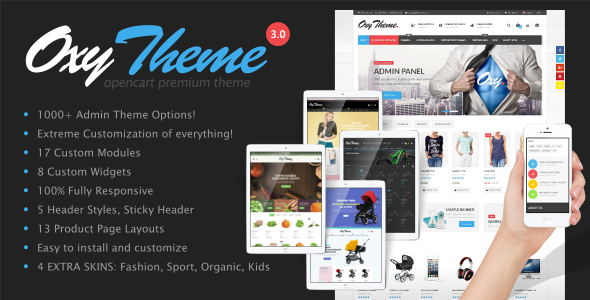 OXY is a Modern, It is fully Responsive and highly Customizable OpenCart theme for every type of online shop, inspired by the best eCommerce solutions and designed with great attention to details and usability in mind. It has has a clean, beautiful design from one side and powerful, flexible back-end from other side. This opencart theme is very easy install, configure and customize. It holds powerful theme admin panel with 1000+ useful features, options and settings and 17 custom modules allows you to do extreme customizations.
Also Read – HTML5 CSS3 Website Templates
6. SimpleGreat – Premium Responsive OpenCart Theme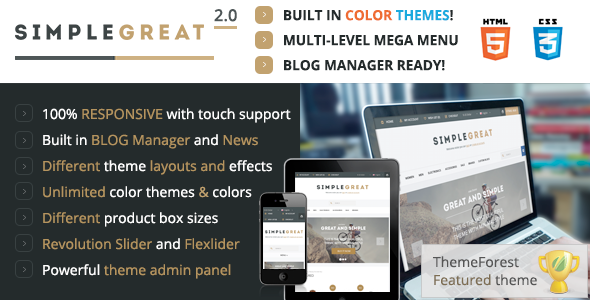 SimpleGreat is a responsive multipurpose opencart theme to create a store for almost anything for fashion design, electronics, mobile, foods, jewelry, tools, auto & spare parts and multi purpose stores. It is very nice with its clean and professional look. It is perfectly responsive, Blog Manager Ready, can be used for any kind of shop, have built-in color skins and powerful backend and it's created with using the latest HTML5 and CSS3 features.
7. BeautyShop – Responsive OpenCart Theme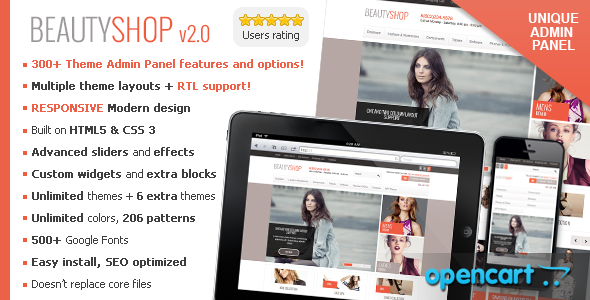 BeautyShop is an exotic and the ultimate multipurpose opencart theme to create a webstore for almost anything but it is more suitable for fashion, apparel, makeup related products dues to its stylish design. It is a universal 100% responsive OpenCart theme for any kind of shop with stylish design and powerful backend and it's created with using the latest HTML5 and CSS3 features. You can manage colors of 150+ theme elements, select 500+ amazing fonts, apply 200+ pattern backgrounds and setup hundreds of theme settings and effects.
8. ShopCart – OpenCart Theme with Powerful Options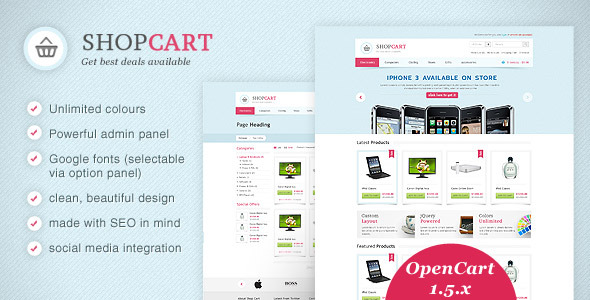 ShopCart is an advanced responsive multipurpose Opencart Theme fully customizable and suitable for e-commerce websites of any purpose. Even if you have no knowledge about programming, editing themes or HTML / CSS you will be able to change your store looks in no time! All that thanks to the advanced, powerful admin panel which allows you to change not only elements colors, but also change theme's backgrounds, upload your own full size image background or your own pattern.
9. Fortuna – Elegant and Responsive OpenCart Theme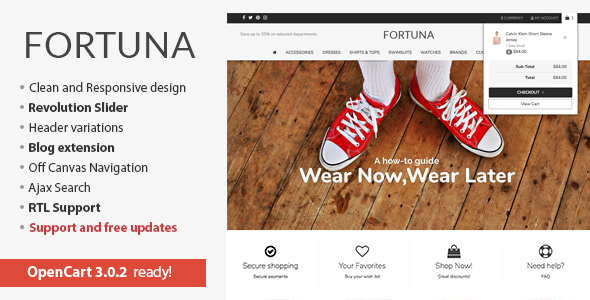 Fortuna is a clean, modern and responsive multipurpose OpenCart theme. It has a simple and minimal layout, elegant design for a beautiful online store. It has been designed and tested to be highly responsive so it fits and display flawlessly on all types of devices including smart phones and tablets. It comes with a sophisticated layout that is complete with all possible elements you may want in your online store site. It has features like Revolution Slider, Blog Module, Ajax Search, Off Canvas Navigation and many more.
10. ThingsforCuties – The OpenCart Baby & Kids Template
ThingsforCuties is a responsive OpenCart theme which is fully customizable and suitable for any kind of OpenCart store on any device. It is the most popular and perfect theme you could use in this genre. It is feature-rich, multi-language, load speed and SEO optimized OpenCart template. Just like its name this theme is perfect suitable for any babies, children and kids eCommerce website, selling candy, toys, clothing or fashion at their online shop.
Also Read – Responsive jQuery Image Sliders
11. Nico Fullscreen Responsive OpenCart Theme
Nico is a minimal, responsive opencart theme. It has modern full screen home slider with mousewheel support and transition effects with fully editable text provided by theme panel. Being a responsive theme it works on mobile phones, tablets and desktop screens providing a better mobile shopping experience. This theme is loaded with cloud zoom feature that means product image display powered by elegant zoom effect. Loaded with powerful panel settings, you can change and test any option live on your website, save your settings without switching to admin interface.
12. Kinder – 4 in 1 Premium OpenCart Template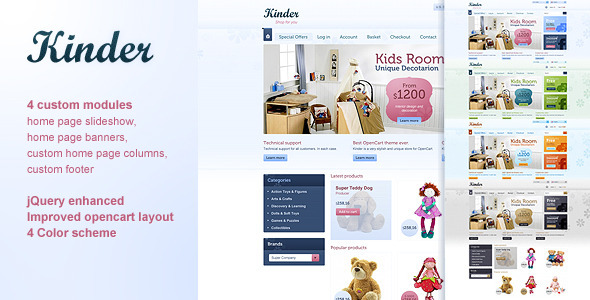 Kinder is beautifully designed which is built on Opencart Platform. It's really fully responsive OpenCart theme that looks perfectly on any device. This theme will work well with any kind of shop, especially the ones selling online clothes, kids products, cosmetics, beauty products, perfumes, furniture, jewelry and watches. It is a visually beautiful, technically advanced Open Cart theme. It comes with 4 colour schemes (blue and cool, black and elegant, green and vibrant, orange and warm) so you can choose the one that will suit your taste. The design is clean and attractive and it's packed with some nice jQuery effects making it a better shopping experience for your customers.
Conclusion
Hope you liked our article about 12 Best Multipurpose Responsive OpenCart eCommerce Themes, Above themes are clean, modern, flexible and easy to customize. All of the above themes are built by top rated developers and It can be used for your store (like fashion, clothing, jewelry, electronics, gadgets, makeup, beauty products, babies etc). If you liked the list do share it with your friends or if you have any unique one in your directory, let us know in the comments.
https://gooyaabitemplates.com/download/Free-Blogger-Templates.png
0
0
Gooyaabi
https://gooyaabitemplates.com/download/Free-Blogger-Templates.png
Gooyaabi
2017-12-27 22:28:47
2019-09-28 04:45:40
MultiPurpose Responsive OpenCart eCommerce Themes in 2018