Best HTML5 CSS3 Bootstrap Admin Templates
Admin templates are one of the most important part of your blog or website, it manages the backend of your app, website or shop. So today we have brought 10 best HTML5 CSS3 Bootstrap Admin Templates. Creating a flexible blogger dashboard that should be able to perfectly suit your user interface according to your project. All of these templates are customizable and includes a pre built homepage as the foundation for your ready to launch project. All of these templates are based on bootstrap, that provides freedom of endless customization also with its updates it becomes more and more feature full thing also some of these templates are based on angular js for better dynamic appearance, that means most of the thing will be saved or changeable without loading the page again and again. Since these templates are made on bootstrap, they became perfectly responsive for any screen size or device.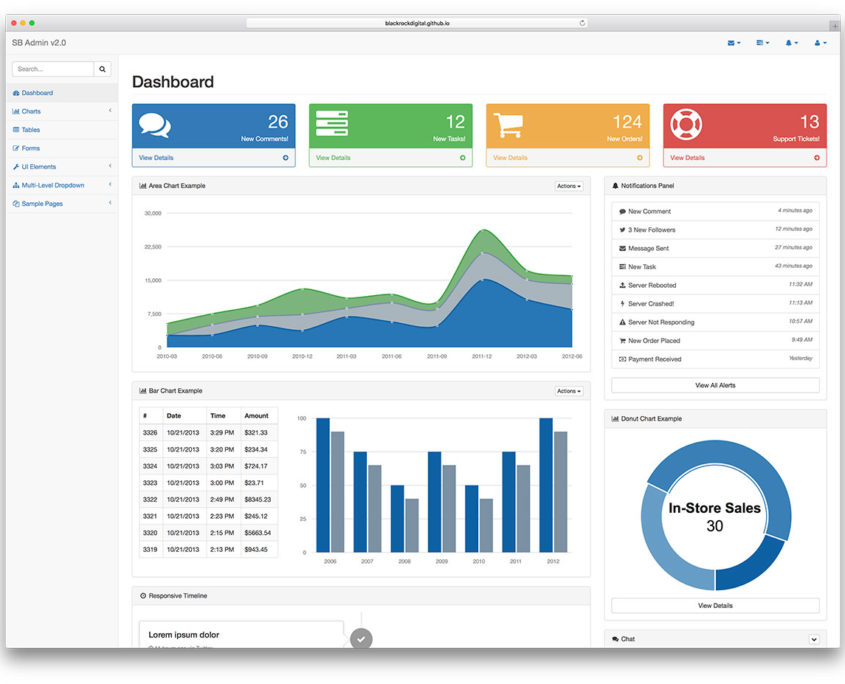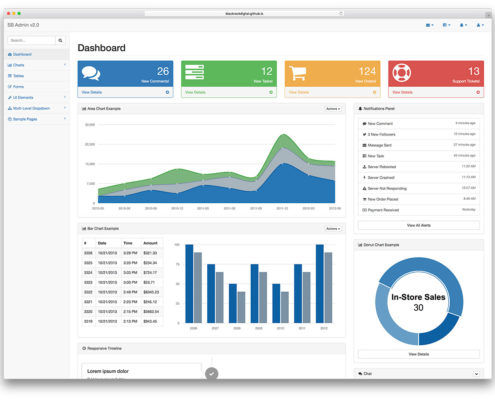 These templates are loaded wit various features that will help anyone from a beginner to a pro or a developer, it provides a balanced platform to create a project. All of these templates carries features like drag and drop, Adding charts, graphics, buttons, alerts, and tables are just some of the features you can add to your admin pages. Some templates include animation effects and other UI elements to help make your dashboard more attractive.
HTML5 CSS3 Bootstrap Admin Templates in 2018
1. ThemeKit – Bootstrap Admin Theme Kit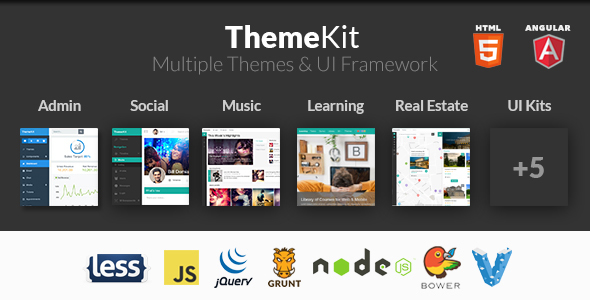 Themekit is a multi niche responsive Bootstrap admin template that will help you create stylish yet functional user interfaces. with stylish UI framework it create a sustaining and specialized base to for your blog backend and management stuff. It is loaded with bootstrap, the most popular HTML, CSS, and JS framework for developing responsive, mobile first projects on the web. which provides you an endless opportunity of customization and functionality also it is fully responsive that adapts seamlessly to any screen size and device and is built to support at least the last 4 versions of every modern browser.
2. Make – Admin Template & Builder – HTML & AngularJS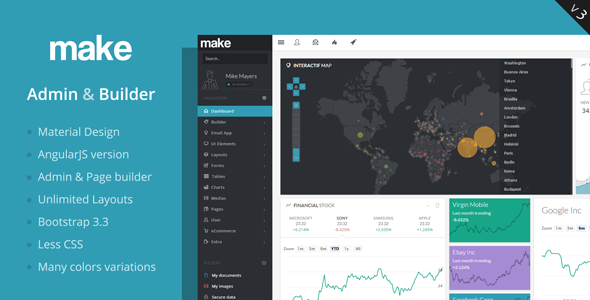 Make is a responsive and flat admin template loaded with 500+ pages and comes in unlimited designs & Layouts. Whatever kind of project you're working on, there's a definite chance that the make admin template could be a perfect match. IT gives you opportunity to customize admin sidebar side, style, topbar content, edit links and permits to add elements to your page quickly(form, table, panel…) with a simple drag & drop.
3. Square – Responsive Admin App with AngularJs
Square is a light weight and fully responsive admin dashboard template built with Bootstrap and AngularJS. it has been designed to assist you in launching your own custom admin panel. It is loaded with features like Responsive Web Design, Powerful Layout with multiple layouts to choose from, Multiple Color Schemes and you can build your own by change a few variables, Single Page Application with Bootstrap and AngularJS, Internationalization support, Angular style guide, Built with Sass CSS, easy modification with variables, Solid Workflow with Yeoman (Grunt, Bower) just like Bootstrap project, Tons of widgets and components, Runnable Task App, Work with jQuery and much more.
4. Material Design Admin with AngularJS
Material is a flat and modern style responsive admin template made with bootstrap, which provides you countless opportunity to customize and cross browser compatibility to your admin user interface. It is a Google Material Design inspired admin dashboard template built with Bootstrap and AngularJS. Material Admin template is loaded with features like Google Material Design, Powerful Layouts Multiple Color Schemes Sass/Scss CSS, nested routing and many more.
5. Multi Style AngularJS Responsive Admin Template | mAdmin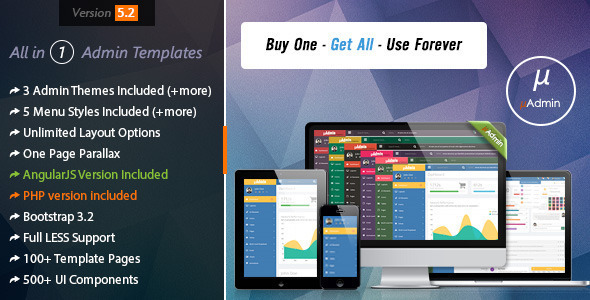 Multi Style is an amazing multipurpose admin template. It is fully responsive and has many custom modules. Are you looking for a admin template for your online business website? If yes, consider your search as complete because this particular template has been designed to cater your needs. It's a multiform template with many style and many color themes, so you can use this for many types of web applications like custom admin panel, admin dashboard, application backend, etc.
Also Read – HTML5 CSS3 Website Templates
6. Stack – Bootstrap 4 Admin Template & Angular 5+ CLI Starter Kit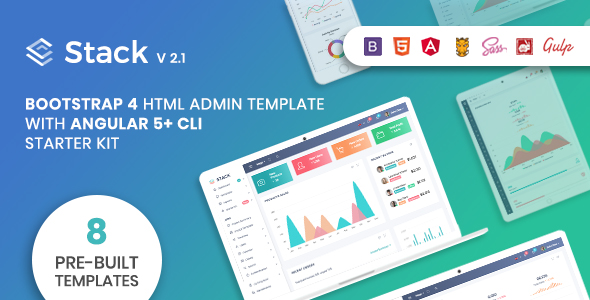 Stack Bootstrap 4 admin template is built with Angular JS and is a clean, powerful, modern and flexible responsive admin template based on bootstrap 4. It has premium features like 7 pre-built templates with organized folder structure, clean & commented code, RTL support, searchable navigation, unique menu layouts, advance cards, 1500+ pages, 1000+ components, 100+ charts, 50+ advance cards (widgets) and many more.
7. Robust – Responsive Bootstrap 4 Admin Template + Jade Builder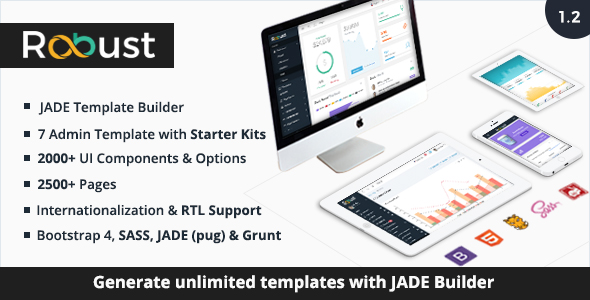 Robust is a Premium Responsive Bootstrap 4 Admin Template also a Jade Builder with feature rich, modern and flat design. This Admin Template is built on world famous twitter's bootstrap frameworks and It is 100% responsive, clean and stylish, building with unlimited layouts generated by Jade Builder. It has features like Robust's Admin Template Builder, 2500+ Pages, 5 Niche Dashboards, Multilingual Support, RTL support, 7 types of menu and many more.
8. Caplet Admin Responsive HTML Theme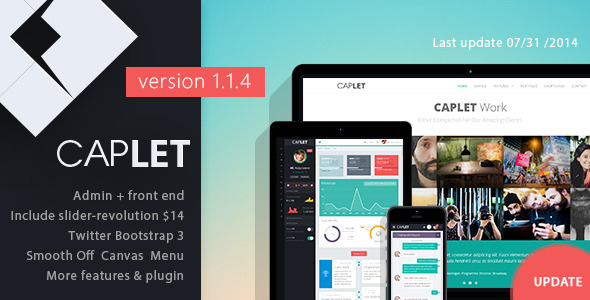 Caplet is a clean, stylish and professionally designed responsive Admin template, It has a good selection of dashboard features and templates to help you add an admin area to your project. It is a modern flat admin theme that is responsive and retina ready. It is based on Bootstrap Framework 3+HTML5+CSS3 and more plugin includes for all purpose use. It has features like calendar, off canvas menu, table, maps, vertical level menu and many more.
9. Light Admin – Clean Bootstrap 4 Dashboard HTML Template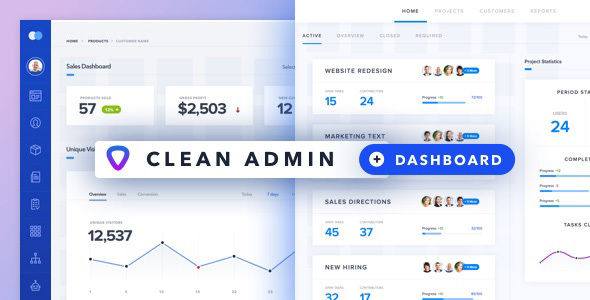 The Essence is a stunning feminine blogging WordPress theme that's easy to customize and setup. This awesome looking theme has a gorgeous chic, girly and feminine style that's perfect for lifestyle, fashion, food, parenting and other types of blogs. The aesthetically minimal and uncluttered design makes it suitable for a wide range of uses. It is packed with useful features such as – featured Slider, Instagram photos, MeridianStyler, multiple homepage layouts, and more.
10. Rainbow – Responsive Admin App with AngularJS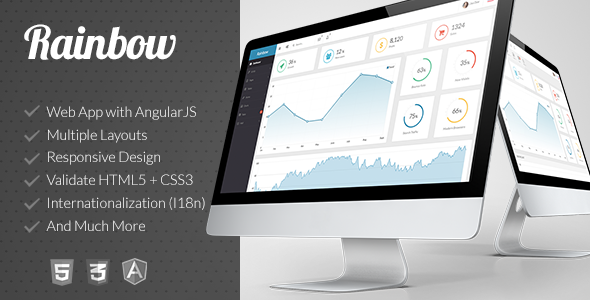 Rainbow responsive admin app template is built with angular js and bootstrap and is a High-Quality Premium Bootstrap Admin Template. It has been created to help you build a modular admin dashboard area for your project. This template has a Responsive Design, which Looks good on desktop, tablet and phone. Loaded with Multiple Layouts like Wide and boxed layout, vertical and horizontal navigation (menu), and toggle for fixed top header and sidebar menu. It is a Web App (Single Page Application) Built with AngularJS. Fully AJAX powered, never refresh the entire page again. Faster, smoother, cooler.
Also Read – Responsive jQuery Image Sliders
Conclusion
We have tried our best to present you a list of Best 10 HTML5 CSS3 Bootstrap Admin Templates, which are simple and functional in use. All of the above templates are built by certified developers and It can be used for your Products (like CRM, Project Management, CMS etc), SaaS Application, Backend Interfaces, Admin Panels etc. If you liked the list do share it with your friends or if you have any unique one in your directory, let us know in the comments.
https://gooyaabitemplates.com/download/Free-Blogger-Templates.png
0
0
Gooyaabi
https://gooyaabitemplates.com/download/Free-Blogger-Templates.png
Gooyaabi
2017-12-25 04:54:03
2019-09-28 04:57:59
HTML5 CSS3 Bootstrap Admin Templates in 2018