Blogging Vs YouTube
In order to start a business, you have to invest money to buy some elements which enable you to conduct the business. Gone are the days when you manufacture or design a product and let the buyer come to purchase the product without doing any sort of communication. By the passage of time, things have changes drastically and this resulted in the medium, manner and methods of how the manufacturers and service providers interact with the customers. Internet presence has revolutionized the way of doing these things and company and individual are totally dependent over the latest technologies. When it comes to internet and e-commerce business, the major marketing tools are blogs and YouTube. These are the best way to communicate with the customers as they are available to the entire world and cost you very cheap as compared to other means of marketing, advertising and selling. In this article, we will try to explain Blogging Vs YouTube and how we can utilize each one for maximum benefits.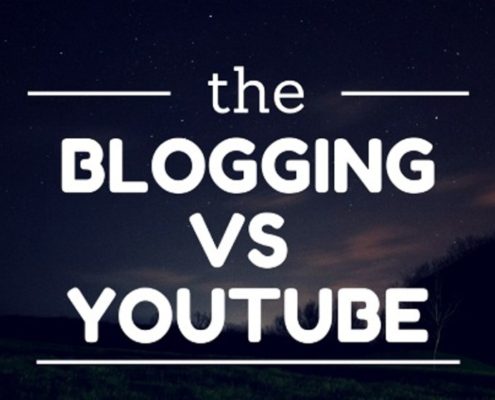 Blogging Vs YouTube in 2018 Reviewed and Compared
Blogging
Blogging is a platform where you can communicate with your target audience by writing informative posts; communicate the future products, expected future plan and so on. The list is endless. In short, it is the way to remain connected with the visitors or customers.
What You Need
In order to start blogging, there are some perquisites that are follows:
Topic selection – Before going to do anything, it is crucial that you should have clear understanding about what you are going to share with your visitors of the blog. In order to measure your understandability, you can take support from acronym SMART. In order to decide your objective of launching a blog, you can use SMART as follows:
S – Specific: Your objective of building the blog must be specific. You should know the reason and how it is imperative to build the blog. What compelled you to do so. If you have satisfactory answers for these questions, then you can go ahead.
M – Measurable: It is equally important to well aware before the launch of the blog, the amount if benefits or profit you can get from the launch of the product. If your objective for profit generation is not clear, you will work like walking in the dark.
A – Attainable: Whatever objectives you have set for your blog, make sure that is attainable feasibly. I have seen blogger set a very strict objective for their blog which results in the failure in very short span of time. These bloggers follow a totally wrong approach because if things are not feasible to attain, then how you can perceive it to be attainable.
R – Relevant: Your blog posts must be relevant to your objectives. If you are writing unnecessary posts, then visitors may get confuse which result in the loss of customers in the long run. So, your posts must be as per the requirement of the readers and your products they are interested.
T – Time bound: In order to take full advantage from blogging for your marketing strategy, keep in mind that you need to publish posts at the right time. If you are late in your publishing, then no one will be interested to read your stuff and it would be like a garbage.
Blogging platform – Once you have decided your topic, it is the time to decide which blogging platform to use. There are so many options available here for you such as WordPress, Blogger, Tumblr and Wix etc. But the most popular one is the WordPress which is the mostly used platform in the world. Whether there is a big blog or a small one, it is equally best for blogging. The popularity of this platform among bloggers is due to the reason that there are countless free resources available such as free themes, free plugins and free tutorials. In order to give your blog a decent look, you can also buy premium themes which will cost you few dollars.
Domain Name – It is the right time to choose a proper domain name for your blog. It should be according to your brand, niche and theme of the blog. I have seen many bloggers using irrelevant domain name that does not match with the contents of the blog. As a result, this shows unprofessionalism over the visitors of your blog and you fail to build the reputation in the industry. The domain name will cost you around $ 12 which is not a big amount. You can choose between various domain extensions such as .com, .net, .info, .us, .biz etc. You need to decide which best align with your target audience and nature of your business. We prefer to use .com domain extension as it is easy to remember for everyone.
Web Hosting – In order to impart knowledge over your blog and to host your blogging platform, you need an online space where visitors to your blog can access them; you need to choose the best quality web hosting space. Avoid buying some low cost cheap hosting as it will dangerously affect your business and your customer's base. By using cheap low cost hosting space, you will end up with lost customers and lost orders due to server downtime. So, this is the factor over which you may not afford to compromise.
Content – Now, you have everything to start blogging, it is the right time to create new posts from the blogging platform installed on your web hosting. If you are using WordPress, you can do so by logging into admin control panel using the user name and password during installation process at http://yourdomain.com/wp-admin. Once you are allowed to sign-in, you can create categories, create posts and do many other task. When you are creating a new post, make sure you have written a good writing piece. If you are not good at writing, then you may outsource this task to someone else. The writer must be able to write promotional stuff as this will help you greatly in earning money from the blog.
Benefits of Blogging
It provides an easy medium to impart knowledge and stay connected with the customers of the business. Gone are the days when you have to advertise at popular classified websites portal and in newspapers to get noticed,
It does not require any extra fees for promoting your products or services because you are already connected to the world. World's most popular brands are taking advantage of blogging to advertise their blog. Whenever a new product is launched, it is shared with the perspective buyers using the company's owned blog,
It does not require heavy investment. You just need a laptop or PC and a normal speed internet connection. Even the manufacturers are reducing their outlets to save a high portion of fixed cost. They are trying to maximize their online sales by taking advantage of blogging,
It does not require any technical skills to develop a blogging platform. The availability of free blogging platforms such as WordPress and Blogger has made the life of bloggers very easy and tension free. So, they do not need to learn any technical skills to perform any advanced task. When blogging was first coined, the blogger has to be well aware about the programming languages such as PHP, ASP, ASP.Net and databases such as MySql etc. Now, there are countless plugins available for doing a single work, so you have the freedom which one you choose to do any specific work or task.
It requires you to do SEO (search engine optimization) for your blog. It includes on-site and off-site optimization. By this, you can get massive traffic from search engine which is called organic traffic. Though, SEO is a time taking exercise but once its full exposure is achieved, things start to work in a very fancy way such that sales start to boom and reaches to its highest point, However, bloggers should avoid doing any black hat SEO (search engine optimization) for their blog otherwise they will sooner or later receive a penalty from Google and all their investment will become zero,
Once you start getting massive traffic from search engines, you can generate revenue from your blog by taking use of PPC (pay per click) program and from affiliate marketing networks such as Amazon associates and ClickBank. Google Adsense is one of the most popular and effective PPC revenue generating publisher network whereby a blogger gets paid whenever, a visitor to your blog clicks an advert for which you are paid. The CPC (cost per click) varies greatly among advertisers. In order to improve CPC and CTR (click through rate) of your PPC advertising, you need to place advertising code at appropriate places. This ensures the highest paying PPC ads delivered to your blog and you receive good amount of advertising revenue.
It is very easy to change the appearance of your blog by using various themes available both free and premium. So, for any special occasion, you can change the colors and scheme of your blog to entice visitors to your blog and enhance the sales potential.
You have the opportunity to earn decent amount of income from selling other advertiser's products via affiliate marketing such as Amazon associates and ClickBank. You are paid commission per sale, so it has great potential and even with low blog traffic, a blogger can drive massive income.
Drawbacks of Blogging
In order to attain visitors to your blog, you have to improve your on-page SEO factors such as description tag, title tag, use of headings etc. This needs to be used appropriately and apart from that, focus keyword for which you want to be ranked at higher position, should be used throughout the article body at proper places and in the right amount. So, you need to be have knowledge of SEO (search engine optimization) techniques) as well.
You need to build links to your blogs via external blogs or websites to enhance its page authority, domain authority, citation flow and trust flow. These are technical terms and a newbie bloggers find it difficult to understand these concepts and how he or she can embrace each one for the betterment of blog's SEO.
You need to write appealing and engaging contents on a regular basis because visitors return back to your blog in order to find new content and if they do not find new content; they will never come back again.
If you change your content theme from one post to the other, then visitors find it confusing and you will start to lose traffic gradually. We have seen many bloggers posting quite dissimilar posts on their blog which do not relate to each others.
You need to work hard to drive massive amount of traffic to your blog. This involves SEO for your blog as well as doing social media marketing. This requires a lot of time and money.
If you are dependent over Google Adsense to generate revenue from your blog, then you could find yourself in hot waters as a single mistake could result in account suspension. We have seen many bloggers getting hit by Adsense suspension and often find other bloggers trying to keep their CTR (click through rate) to an acceptable level if it is crossing 3 % limit.
YouTube (YT)
YouTube is the most popular and widely used video sharing website. It is used by small and large size entities to share information, promote products and build the reputation of the brand. It is a free medium available to the entire world. Like Adsense, YouTube is also the property of Google which acquired it on 10 years ago at a price of $ 1.65 billion. Through this purchase arrangement, you can imagine the power of video sharing websites that compelled the Google to acquire the major entity in the industry.
Here, we would like to introduce a new terminology of Vloggers and Vlogging. By Vloggers we mean who do the work of video making and by Vlogging, we mean that art of publishing the videos to the video sharing websites such as YouTube, DailyMotion and Vimeo. In recent years, the trend of Vlogging has increased tremendously which resulted in the popularity of the video sharing websites.
The video makers can earn handsome amount of traffic from YouTube by generating high quality videos that is the original one. We have seen many Vloggers uploading and sharing videos over which they do not have any copyright powers. As a result, it is deleted by the video sharing websites.
What You Need
In order to make a video for YouTube, you need to have a camcorder, characters and advanced level skills of video editing. So, this is a difficult task for a newbie video maker to make high quality video that fulfills the requirements of a good quality video.
Unlike blogging, you do not need any web hosting, domain name or blogging platform. You just need to have the skills to make the videos and upload it to YouTube. However, in order to make your videos viral, you need to focus following things:
Video Length – In blogging, long content works best in order to improve the user's attention and overall search engine score. The same principle applies to video marketing. If your video is short such as 3 minutes or 5 minutes long, you may not expect YT to show your video top in the search result. So, always try to make a video which is of sufficient length. We prefer and advise each Vloggers to make videos of at least 10 minutes long. The longer the length of the video, the better result you will achieve in YouTube search results for a particular keyword. However, if you are making video just for the sake of length, then you will not get bad results in the long run. Because, if your video is 30 minutes long but contains valuable information of just 10 minutes, then viewers will lose the interest in your video content. As a result, they will not subscribe to your channel. So, you will actually destroying your image in Vlogging field.
Title – In order to rank high in search results of YT, it is necessary that you use the right title for the video. I have seen many Vloggers using no title or wild video title while uploading. This causes your video not to appear in the search results. Even, it does not display in the relevant video section.  In order to fully utilize the power of title, use at least 68 characters in the title field. Try to create impressive and appealing titles to attract the attention of the viewers.
Description – Like title field, description of the video plays a vital role in the SEO (search engine optimization) of the video. Try to use maximum 160 words description and implement your target keyword twice in the text. Like title, the description must be persuasive and appealing in order to increase its CTR (click through rate) in the search results. This SEO factor is common whether you are doing blogging or doing Vlogging. So, here the Blogging vs. YouTube scale is balance.
Tags/ Keywords – One of the key elements in the SEO (search engine optimization) of a video is the keywords that you use. Your focus keywords must be used here along with some long tail keywords in order to make sure that you rank high for keywords which have no or little competition. As a result, you start to gain views on your videos in a very short period of time and if your video is viral and informative, your subscriber base will rise rapidly in a short period of time.
Thumbnail – One of the most ignored factors among Vloggers is that they do not pay attention to the thumbnail of the video. This result in less click through over the video though it ranks high in the search results. Please keep in mind that as YouTube is the multimedia website, people who visit YT, often give priority to videos which are multimedia rich. They do not pay much attention to description of the video, what they first look at the thumbnail. If your thumbnail is just the glimpse of the video, then chances are high that viewers will not click your video to watch. Instead, they will click and watch the videos which have a good quality thumbnail associated with them. We have great experience with videos that have some text written on thumbnails. Viewers click these thumbnails more frequently than others which do not have some text over.
Brand Awareness – Throughout your video, try to emphasize your brand so that viewers could remind you whenever they want to watch similar types of videos. Brand awareness also helps you from another direction when you also runs a blog and people use your brand as keyword in Google search engine. As you are the owner of the brand, you will rank number one position and will get massive amount of traffic just because of brand recognition among viewers.
Subscribe – Throughout your video, emphasize your viewers to subscribe your channel. This will help greatly in the event you launch new videos and they will be notified immediately via email and on screen notification message. Successful Vloggers always try to increase their subscribers in order to achieve success in short period of time.
Quantity – In order to improve your subscriber's base, it is crucial to upload as many videos as you can but the quality of the videos must be preserved and posed the viewers that you are a professional video uploader who has sufficient knowledge, information and skills to clarify the topics which plenty of videos.
How to Earn from YouTube
Videos have become the major methods for imparting knowledge. But you can take advantage of your videos as well by generating some decent revenue. Like blogging, you have the freedom to earn profits from YT. You will be paid for each video views and for ad clicks. You can integrate your Google Adsense account with YT to monetize your videos. If you have applied all the tactics that we mentioned above, you will generate massive traffic to your videos. As a result, you will make handsome amount of revenue from your published videos. If your video is viral, then sky is the limit and you may not imagine how much potential this video monetization tactic has for the Vloggers.
Benefits of YouTube
In Blogging vs. YouTube discussion, we will highlight benefits of YouTube as follows:
It is the number one platform to share videos and impart information, knowledge and launch products,
It is available to everyone in this world. You just need to be creative in your approach and transfer that creativity into the video appropriately,
It is the best way to build brand recognition among the viewers and turn them into repeat customers. In our views, it is the simplest and free method to build the brand in the international market. So much brand awareness is not possible without YT as internet has revolutionized the way information is passed on from one region of the world to the other part.
It is free to setup and share videos as you do not need to incur heavy cost for buying a domain and dedicated hosting space. You may not share your videos on cheap shared hosting as videos are big in size and requires a lot of bandwidth which your current shared hosting may not bear. So, YT bears all this matters itself and you do not need to be curious about your video size and how much bandwidth it will consume on a monthly basis. You will be billed never for your videos because YT is responsible to pay all these heavy fees on its own.
The speed of YT server is immense which you may not get elsewhere. We have tested many video sharing websites and found YT as the fastest video loading website without any network error.
Drawbacks of YouTube
YT is not your property and as a result, viewers will not be aware of your blog's domain. Though, you may remind them of your web address via including it on your videos but very few viewers remember this.
A little mistake can get your account suspended and all your videos would be deleted. If you do not have videos backup with you, you will find yourself in hot waters.
Via blogs, you can impart a very detailed content. But, on the other hand, videos may not be used for such a lengthy content because lengthy videos often lose viewer's attention. In our personal experience, we avoid watching videos which are more than 30 minutes long because every person has limited time and in that time, he or she has to perform numerous tasks. He or she may not devote major portion of his or her precious time just for your video. No matter, your video is excellent but viewers may not continue to watch it for longer period. Here, the blogging wins the race.
Comparison of Blogging Vs YouTube
Blogging
YouTube
1.      Blogging requires heavy investment if you are launching a big blog for which you need dedicated hosting.

2.      If you are good at writing, then you can do wonders with your blog.

3.      You do not need to have any technical skills in order to launch a blog as there are many blogging platforms available with thousands of free themes and plug-ins which make your work very easy and simple.

4.      You have full control over your blog and its content. So, no one can delete your stuff without your approval.

5.      You can earn massive amount of income from blogging.

6.      You can earn from numerous CPC, CPM and affiliate marketing networks through blogging. So, you have multiple streams of income available.

7.      You need to learn SEO (search engine optimization) skills in order to rank your blog and its posts on top ranking in Google search results. These skills involve on-site and off-site optimization technique and these are not easy to implement as competition has become fierce.

8.      You need to work very hard as there are immense number of competitors fighting for a single keyword. You need to build your page authority, domain authority, trust flow and citation flow.

1.      YouTube is a free medium to share your videos, though you need to invest in camcorder for video making.

2.      There is no need to have writing skills in order to get most out of the YT. Even it does not matter whether you know English language very well or not because in videos, it is the actions that speak louder than the words.

3.      You need to have technical knowledge about video making and how to edit videos. It would be good if you know the art of photography and its various technical jargons to make compelling videos.

4.      You may not do anything if YT deletes your video. This happens many times with various Vloggers.

5.      You can earn massive amount of income from YT. The only way to achieve this is via increasing the number of subscribers to your channel and the ball will roll itself.

6.      Google Adsense is the only source of income in YT.

7.      You need to learn the art of search engine optimization art for YouTube, so that you could rank your video at the top of the search results.

8.      YT is already an established name, so you do not need to compete with other video sharing websites because you are taking advantage of YT page authority, domain authority, trust flow and citation flow.
Conclusion
We end up the discussion of Blogging Vs YouTube by summarizing the fact that both options have great potential to generate massive amount of money and can be used to build brand awareness and increase reputation in the respected field. Please keep in mind that nothing is easy in this world and you have to work very hard to achieve success. So, it is your turn which or both options are best for you. Let's try!
https://gooyaabitemplates.com/download/Free-Blogger-Templates.png
0
0
Gooyaabi
https://gooyaabitemplates.com/download/Free-Blogger-Templates.png
Gooyaabi
2017-12-26 07:46:24
2019-09-26 04:16:02
Blogging Vs YouTube in 2018 Reviewed and Compared