How to Speed Up WordPress Site
Search engine optimization (SEO) revolves around hundred of factors that determine the overall SEO Score of a particular web page. One of the most important factors is the speed of the website. If your page loading time is longer, then be ready that you will not be able to get a high search engine ranking position (SERP). Apart from this, visitors that are coming to your site will switch to another website just because your page is taking too much time and the visitor has lost the interest in your website. No matter, how unique and informative content your website offers, you will get penalized due to slow speed of your website.  How to speed up WordPress site is the most common discussion among bloggers now-a-days.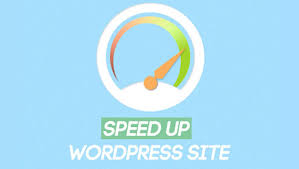 You might think that my site load quite quickly on a daily basis but why others are complaining about my site speed. The reason is that as you visit your site on a daily basis, your browser such as Google Chrome, Mozilla Firefox & Opera etc saves the cache. So many stuffs such as images, CSS and JavaScript do not load every time you visit your blog. However, a visitor who is doing his first visit, all that data loads up with your site and as a result; web page takes too much time to load. You can measure your website speed using free services such as Pingdom.
As we know that there are many blogging platforms available for bloggers to use free. One of the most popular and commonly used platforms is WordPress.  But I have seen many blogs running WordPress take too much time to load. So, as discussed above you are destroying your blog's potential to attract visitors. If your WordPress site is slow, then visitors might come first time to read your content in order to enhance their knowledge. But, they will think many times before making a second visit to your website. The bitter truth is that they will leave your site even before it gets loaded. That is why; in this article we will discuss how to speed up WordPress site that will improve your SEO score and retain visitors.
How to Speed Up WordPress Site in 2018
In order to improve the WordPress site speed, you need to focus on following things:
Web Hosting
This is the most important factor which decides the overall speed of your site. No technique will help you out that we will discuss in rest of the article below, if your web hosting server is slow. This happens mostly when you are hosting to your site on shared hosting. Though, shared hosting costs you very cheaply and sounds very appealing but on the other side, it hits you badly in terms of slow site speed and frequent down time. This is very bad and devastating in periods of high traffic. You just simply cannot afford to have such a slow speed and downtime as you are losing the customers and ultimately destroying the factors of success. So, we recommend web hosting which is speedy and offers high support so that yours business could not be compromised. Beware that never buy a hosting from an individual that is doing all the thing himself from creating the hosting accounts, replying to the support tickets & doing maintenance all alone. If you are buying from him just because of cheap prices, you will definitely be paying the hefty price for such savings.
Theme Selection
As we know that there are thousands of WordPress themes available over the internet from free to premium. Most of the themes look very beautiful and elegant but they consist of too many images, scripts and plugins that slow down your site too much. We have seen many WordPress Sites are using themes with options and features which they simply do not need at all. So, our advice is to go for Twenty Fifteen theme which is the default WordPress theme. This theme is very light and improves the loading time of your blog tremendously. Another great option is to go for Thesis Theme Framework which is very popular among blogger due to clean coding and fewer plugin usages. Now, you have gotten the main answer to your question how to speed up WordPress site.
Cache Plugin
Cache Plugins are good in order to improve the speed of the site. There are many plugins available over the WordPress.org in the cache category. But the most popular one is W3 Total Cache which allows you to integrate content delivery network (CDN) feature which allows visitors to your blog to download all your static files such as images, CSS and JavaScript on to a server nearest to them. As a result, contents loads faster than ever and consequently, you will notice that your SERP (search engine ranking position) will improve gradually.
Optimize images
As we know that the sizes of the images are quite high which render the page loading time too much. That is why, it is suggested to use some tools or website in order to reduce the size of the image while at the same time, the quality of the image does not compromise. You may take support from Yahoo! Owned Smush.it which allows you to do the task of reducing the image size, while your image quality remains the same which is an awesome feature. However, if you are using images in your posts frequently, then you may take support from plugins such as WP-SmushIt. This plugin will automatically optimize your images during the process of uploading.
Pingbacks and Trackbacks
These two things put a load on your WordPress when some other blog links to your post. It updates the posts on your blog which was mentioned on another blog. So, it is right time to turn off the Pingbacks and Trackbacks. This will not affect in any way the link to your site from 3rd party. You can turnoff these two things from Settings > Discussion > Default article setting > Uncheck Allow link notifications from other blogs (pingbacks and trackbacks).
Conclusion
The task of how to speed up WordPress site is not as difficult as it seems. With little bit of tweaking and following our guidelines, you can tremendously rank higher in times of page load time. Look no further, act now to eliminate one factor of lower ranking in search engines.
https://gooyaabitemplates.com/download/Free-Blogger-Templates.png
0
0
Gooyaabi
https://gooyaabitemplates.com/download/Free-Blogger-Templates.png
Gooyaabi
2017-12-14 08:13:19
2019-09-26 03:38:00
How to Speed Up WordPress Site