How do Bloggers Earn Money
Every day, countless blogs are created using various platforms such as WordPress, Blogger, Tumblr, and Site123. No matter for what purposes they are built, bloggers have to cover the cost of domain, hosting and human efforts using different kind of tactics that yield money from their blog. The trend of generating money from the blog is on rise and has become favorite profession in most of the countries. The blogging profession requires the blogger to treat it like a business and as a result, the blogger must invest sufficient period of time to build the solid foundation of the business. It is quite amazing that people can do 9 to 5 job for others, but when it comes to blogging, they feel over burden and show laziness to work on their own small blogging business. Please keep in mind that every business starts as a small one and it takes time to grow as a gigantic name in the industry. When you look at world's big companies, they started as a small business such as Microsoft, IBM and Blogger. Now they are the big names in the industry due to hard work and continuous working for the betterment of the business. If you have decided to make blogging as your career and want to earn money, then you should continue to read this post how do bloggers earn money.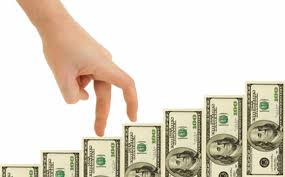 Business success depends upon the customers you have. If you have very few or no customers at all, then forget about the success. It will not come to you until you work hard to achieve clients for your business. Same is the case with blogging field, you have to give your utmost efforts, then wait and see the result. We have seen many blogs which get massive amount of traffic after many years. If you are good at generating high quality contents for your visitors, then you should expect that you will get the result definitely though it might take some time. Usually, blogs grow over the period of times organically and become source of massive amount of money that you can never imagine.
How do Bloggers Earn Money in 2018
As a blogger, you have multiple options available to make money from your blog. Some of the well known methods of generating money from the blog are as follows:
CPC Advertisement
This type of advertisement method is very popular among bloggers of every type. Whether the blogger is a well known or not, he or she can join some of the best CPC networks to start generating money from the blog. CPC means cost per click. When you join some CPC advertising networks, you are given the code to be placed on your blog. You have the freedom to place the code at any place where you want the adverts to appear. Once the adverts start to appear and a visitor clicks the ads, you are paid. In order to earn a smart amount from CPC networks, you need to have massive amount of traffic otherwise your earning would be very low. These types of networks are also called PPC (pay per click) advertisement networks. The most popular CPC or PPC network is Google Adsense which is regarded as the giant in the industry. Almost every blogger use Adsense on his or blog to earn decent amount of money. In order to improve your earning potential, you need to place Adsense code at places where visitors interact with your content too much. By this, CTR (click through rate) of your adverts will increase and you will receive more high paying CPC ads from the advertisers. In order to get paid, you must need to achieve $ 100 milestone in Adsense earning which you can receive via Check and Western Union.
Infolinks is another popular PPC advertisement network that could be used as a second option after Adsense. If you are not getting approved in Adsense, then you can use Infolinks publisher account. We have seen many publishers using Infolinks due to the fact that Google has banned their Adsense account and they have no other option left to generate money from their blog. We have tested both Adsense and Infolinks on the same blog. We found Infolinks generating around half of the revenue that Adsense generates. That is why, Adsense is still the number one choice for bloggers. Though, the earning potential is far less than Adsense but it is better than nothing. Their payment threshold is just $ 50 which is not difficult to earn for a medium traffic generating blog.
CPM Advertising
The second best answer for how do bloggers earn money is CPM advertising. For some bloggers, Google Adsense is not the right choice or simply they are not getting approved in the Adsense program. Whatever is the reason, you have the freedom to go and try any other means of revenue generation such as CPM advertising. It is a type of advertising which pays you for serving thousand banner impressions unlike PPC ads which pay only for the clicks over the advertisements. So, ideally it is good for blogs which are getting massive amount of traffic from every source whether it is from search engines or from social media sites. You can simply put the CPM ads on the side bar, header and footer to maximize the earning potential. There are plenty of choices available for you as a blogger. You can try Adbuff, UberCPM and Advertising.com to know which CPM program is best for you. If your blog receive a major portion of traffic from USA, UK, Canada and Australia, these publisher programs can do wonders for you and they may produce results which you can hardly achieve from any PPC networks. We have tested CPM advertisements on one of our blog and the result was awesome. Our major portion of the traffic was from US and we were earning very close to Google Adsense. It is the reason we are emphasizing you not to neglect this method of revenue generation, give it a try, might be it could do some wonder for you.
Private Advertising
It is a direct advertising method where you reach to the clients directly in your local area. As you know using traditional methods to advertise your product is a very costly process. You have to spend a lot of money to make your name in the industry. On the other hand, blogs are wonderful and with some decent work and search engine optimization (SEO), you can attract local businesses to your blog. If you are receiving massive amount of local traffic from search engines, then definitely advertisers will run after you. You can get rank for local keywords in search engines very easily without putting a lot of efforts. This is the most common strategy that smart bloggers are using to reap the benefits.
Affiliate Marketing
Apart from CPC and CPM advertising, there is a lot more options for bloggers. How do bloggers earn money from affiliate marketing is not difficult to explain. Now-a-days, it is considered as the highest potential money making resource which can turn your blog into million dollar business. In affiliate marketing, you are required to join an affiliate marketing network. Once successfully registered with a network, you can choose the products you want to promote and sell over your blog. Upon doing so, you will be given a piece of code which you need to include in your blog. Once you include the code on your blog, the selected products will start to show up on your blog. The game begins when visitors click the products appearing over your blog and make a purchase, you will get commission. The commission amount depends upon the product and it could be 10 % to 70 %. So, by choosing the right product that offers a very good commission and aligns with your blog's niche can do wonders for you. There are numerous affiliate marketing programs that you can join but as a matter of fact, very little network yield positive results for the bloggers. The most popular and most effective affiliate marketing programs are Amazon affiliate and ClickBank. Both the programs have immense amount of products that you can sell over your blog to earn handsome amount of revenue in the form of commission income.
Selling Services
It is one of the best methods to make direct clients. Your blog is your identity and every effort should be made to create a professional looking blog. If you make expert posts in your category, it drives organic traffic from all over the world. When visitors start to grow on the blog, you can offer your services for a fee. For example, if you are running an accounting and finance related blog, you can offer your audit, accounting outsourcing and taxation services to your visitors. If you have been successful in making the proper impression due to your posts, then there is a huge chance that visitors will try your services. Here, your blog works for you as a marketing manager.
How Do Bloggers Earn Money Selling Digital Products
Digital products have acquired the internet world tremendously. Whether it is a book, religious stuff or music album, you have full freedom to sell them at your blog. The rise in the use of digital products has affected the blogging industry as well. That is why; you will find that every one out of five blogs are selling digital products that they belong to them or to the third party. You can imagine the importance of digital products such as e-books from the fact that on famous freelancing websites, most of the jobs are posted to develop an e-book. Bloggers take support from e-book in order to increase its email subscribers as well. For example, we have seen many blogs that offers free e-book in consideration of joining their mailing list. The email list works greatly and whenever you launch a digital product or want to promote your affiliate link, you can do so by emailing to the email subscribers.  Other digital books that you can think to sell via your blog are workshops, online courses, mobile applications, themes for blogs and free plugins for WordPress blog. The list is countless and you need to think about your industry as which digital product you can launch to capture the visitor's attention.
Sell Membership
Membership based blogs are wonderful tools to earn money from the blog. It is perfect for blogs that offer some premium contents for which visitor are aggressively looking. For example, an online book store which sells specific books. These books are not available elsewhere and you have exclusive rights to sell the books. You can create a membership section where visitors are allowed to enter and read the book only when they become a member by paying certain monthly fees. You have double benefit here as you not only making money from selling membership but also creating an email list that you can use any time to market new products. By this, members of your blog will come to know about the new products in a very short period of time and your products will get promotion in quick time and start to give return within few days.
Conclusion
Your blog is your asset and need your support and hard work in order to make it a going concern business. It is necessary that you treat it as a small business in the initial phase of the investment. As you know, in initial years investor has to invest huge amount of investment. But, in later years the investor enjoys the high profit due to the investment he put in initial years. Same is the case with your blog. Invest your time, efforts and skills in your blog in initial phase. Soon, you will find your result in the form of massive traffic and increased revenue. We hope that you have gotten the answer to your question how do bloggers earn money.
https://gooyaabitemplates.com/download/Free-Blogger-Templates.png
0
0
Gooyaabi
https://gooyaabitemplates.com/download/Free-Blogger-Templates.png
Gooyaabi
2018-01-09 07:09:39
2019-09-26 04:06:23
How do Bloggers Earn Money in 2018