Best Feminine WordPress Themes
Being a female blogger it is very important to find the Best Feminine WordPress Themes for your blog, which suits most with your blog topic. Feminine wordpress themes are not much different themes but it has a lovable, more adorable, customized and flair look and feel in every designing aspect. These themes are very lightweight in terms of loading and carries minimal appearance with soft color schemes and combination. Most of the themes are sleek, clean, simple and professional for any niche and topic.
WordPress theme for woman are not only beautiful but also has very unique and some of the best professional features you could find in wordpress themes in current market. If you are a lifestyle blogger, magazine owner, DIY and crafter, store owner, or mommy blogger? Or are you a creative professional, then you can find the Best Feminine WordPress Themes with most amazing features.
30 Best Feminine WordPress Themes in 2018
1. Sunflower – Minimal WordPress Theme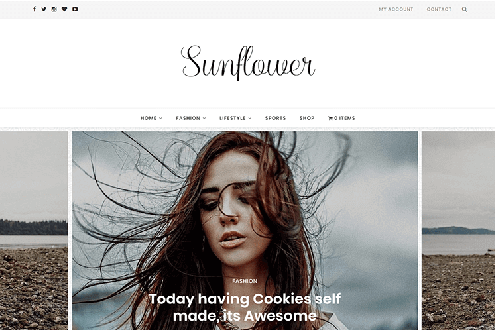 Sunflower is a versatile and powerful multipurpose WordPress blog theme perfect for any personal blog. With numerous styling options at your fingertips, Sunflower makes customizing your blog and changing colors, fonts, and most elements a breeze. It's clean, clutter free design is the perfect choice for the minimal loving creative blogger. This theme offers a stunning visual experience to showcase your content with responsive grid/standard/list/modern system layout optimized for mobile touch and swipe.
2. Crushine – Clean WordPress Theme
Crushine is the most elegant and clean Multipurpose Feminine WordPress theme on wordpress, specifically designed for serving women. This theme has beautiful and versatile appearance. However, the greatest thing about Crushine is that it's even ideal for a wide range of websites with several purposes, from fashion shop, beauty blog, wedding-planner sites, online store, portfolio and so on! It features 4 different layout design, easy to setup and customizable theme, great plugins, custom pages and many more.
3. Lifestyle – Personal Blogging Theme
Lifestyle is pure and simple wordpress blog theme for all fans of beautiful design and flexible functionality. It is created to emphasize individuality and to focus on creativity and independence of bloggers. To make it more featurefull and advanced it has custom slider, custom colors, instagram widget, featured categories and many other options and features which makes Lifestyle a beautiful theme with truly elegant design.
4. Aster – Feminine Photography Portfolio WordPress Theme
Aster is a beautiful and feature rich ecommerce photography WordPress theme for female bloggers. The premium theme is designed with versatility and personalization in mind and geared to displaying your photographs in a unique and eye catching way. While designed for photographers the theme is versatile enough to be used for a business website, blog or anything else you like. It has Unlimited number of portfolio galleries, an Option to set single portfolio entry as Home page and many more.
5. The Mysterious Girl – Feminine Style WordPress Blog Theme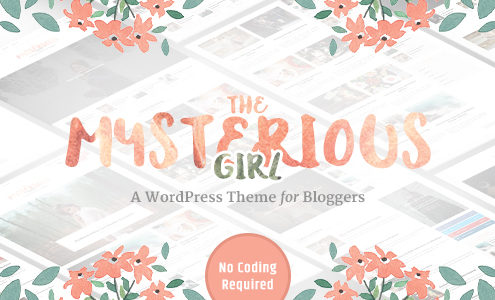 The Mysterious Girl is a premium, posh yet minimalist feminine WordPress theme that can be used for a variety of purposes from a business site, blog, ecommerce store or portfolio showcase site. It's a responsive theme that lets you feature galleries or pages in a minimalist style with stunning typography. The theme contains everything you need to showcase, it has features such as Visual Composer, Advanced Theme Options etc. With the combination of responsiveness and modern design, this theme will provide an optimal viewing experience and will make your website looks great on across wide range of devices and screen sizes.
Also Read – HTML5 CSS3 Website Templates
6. Florence – Feminine Clean and Fresh WordPress Blogging Theme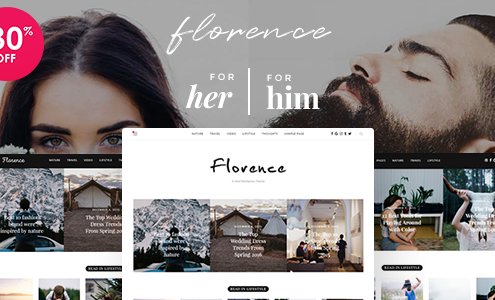 Florence is a blogging WordPress theme specifically crafted for fashion and lifestyle blogs with a feminine touch and feel.This theme has a clean and modern design with all the features and customization options you need to create a unique a great looking blog or online magazine. Florence comes with two header variations, three featured posts styles and more than 8 home layout styles and a left sidebar that shows the most popular posts on your blog and also hot posts.
7. Wonderwall – Responsive Magazine Theme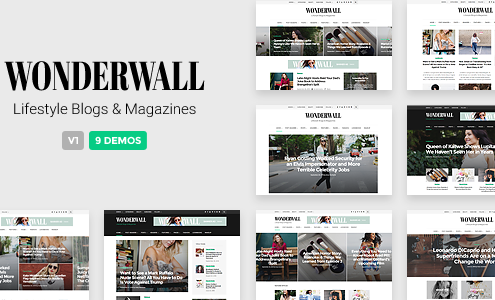 Wonderwall is a modern blogging WordPress theme with clean magazine layout design that's unique and easy to setup. The premium theme would be ideal for lifestyle and fashion blogs, or other female oriented blogging websites. It has a mobile responsive design, slider, a number of custom page templates, customizer options, WooCommerce support and more.
8. Zarja Blog – WordPress Blog Theme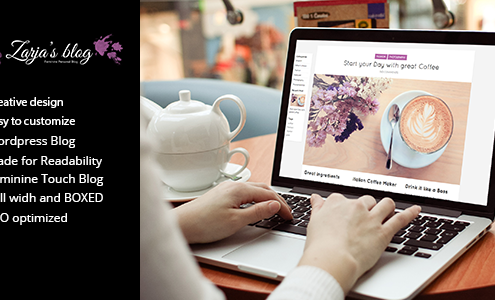 Zarja Blog is a stylish WordPress theme specially built for female bloggers and specifically designed for fashion bloggers, visual creators and others wanting a stylish and unique design for a blog, portfolio or website. It comes with a full screen layout and sections for featured content, multiple custom layouts and post formats, social widgets, custom fonts and color controls, custom widgets and menus and more.
9. The Essence – A Responsive WordPress Blog Theme
The Essence is a stunning feminine blogging WordPress theme that's easy to customize and setup. This awesome looking theme has a gorgeous chic, girly and feminine style that's perfect for lifestyle, fashion, food, parenting and other types of blogs. The aesthetically minimal and uncluttered design makes it suitable for a wide range of uses. It is packed with useful features such as – featured Slider, Instagram photos, MeridianStyler, multiple homepage layouts, and more.
10. Noemi – Lifestyle & Fashion Blog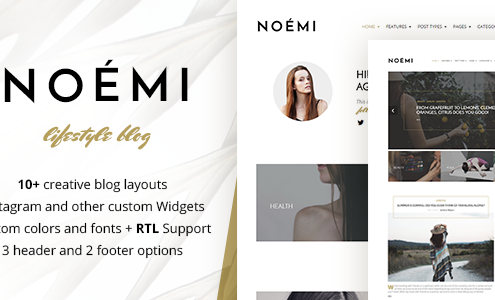 Noemi is a highly flexible WordPress simple and clean style theme with lots of great features for easily creating a modern and professional online website, blog, personal site or other editorial project. The Feminine blog version of the theme is a beautiful and feminine looking theme ideal for online personal projects and blogs about fashion and beauty, lifestyle, makeup and cosmetics, celebrity and gossip mags or any other lifestyle and female oriented niche.
Also Read – Responsive jQuery Image Sliders
11. Flower Shop – Florist Boutique & Decoration Store WordPress Theme
Flower Shop is a customized, fashionable and minimalist feminine wordpress theme for the female bloggers and artists. This amazing theme has a clean and minimal design that uses large images, nice typography and lots of white space to great effect. Its easy to customize, is WooCommerce ready, mobile friendly, and comes with an unlimited choice of Google fonts. You could use the theme for a stylish blog, portfolio sites, ecommerce store, online magazine or anything else.
12. Candy Queen – Responsive Multi-Purpose OnePage WordPress Theme
Candy Queen is a mobile responsive one page business WordPress theme for female entrepreneurs. The premium theme has a sweet and creative design that would work well for candy boutique, florist design studio, beauty salon, cup cake shops, bakeries, ice cream shops, restaurants, cake designers or female oriented businesses. The one page layout lets you display a slider, information boxes, your products, prices, team / staff, social links, skills, and a map. It has a theme options panel and more.
13. BoHo Baby – Babe Fashion Shop & Blog
Boho Baby is an appealing and versatile premium WordPress shop and store theme. The theme is perfect for personal blogs, jewellery, craft, interior design, home based blogging businesses, mom bloggers, homewares and designers looking for a feminine WordPress template. It has 2 fresh and vibrant colour scheme options (Baby Blue and Baby Green) and several homepage layout options (magazine, magazine with slider, full posts, full posts with slider, post excerpts, and post excerpts with slider). The theme includes an options panel to help you easily set up and control your website and being a wordpress shopping theme includes all the other great features and functions of the woocommerce.
14. Aquarella – Lifestyle Theme for Digital Influencers, Bloggers & Travelers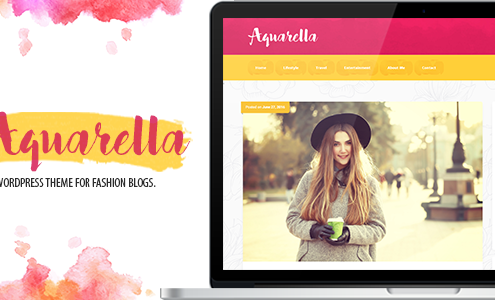 Aquarella is a beautiful feminine WordPress theme for female content publishers ideal for a variety of purposes including traditional websites, blogs and personal sites. The premium theme is inspired by simple and creative design which is minimalist with clean simple lines and highly functional, but only what is needed is used. The theme is optimized for mobile with a responsive layout that adapts to different screen resolution like iPhone, iPad, other tablets and mobile devices. Other features include custom shortcodes, options to customize the colours, theme options and more.
15. Verve – Creative Agency, Studio, Personal & Portfolio WordPress Theme
Verve is a beautiful feminine WordPress theme with an elegant and modern design. This stylsih theme could be used for a business website, portfolio or an online studio. It has a stylish feminine design and lots of great customization options built-in (WordPress Customizer) so you can easily customize the colours, fonts, site and content widths, layouts and more. Some of the other key features of the theme include: a fully mobile friendly design, Google fonts, shortcodes, header options, various page layout options, support for many popular plugins and more.
Also Read – Photography WordPress Themes
16. Wedding Bliss – a Unique Wedding WP Theme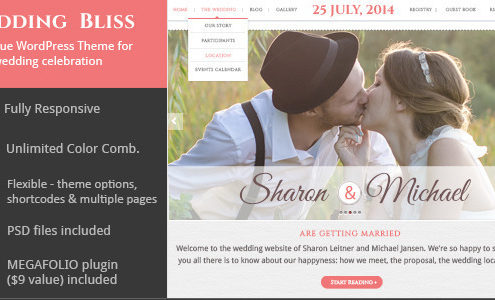 Wedding Bliss is a clean and fresh blog / WordPress theme for wedding ceremony events and planner with pops of colour. The theme comes 7 wedding specific pages, RSVP form, GuestBook form, countdown timer, custom background and header options, mobile responsive design, HTML5 markup, portfolio page template and more. The theme is built on the Bootstrap 3.0 framework. It's fully responsive, it has elegant and feminine design and it's especially designed for weddings.
17. Aden – A WordPress Blog Theme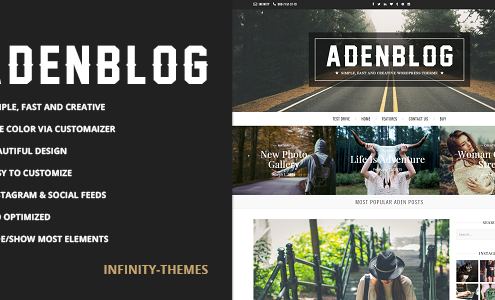 Aden is a bright and featured responsive feminine WordPress theme with an image background on header. The theme could be used for a unique blog or any sort of magazine website. This theme has a responsive layout which will work on any mobile deice, browser or screen size. Some of the features include WordPress Live Theme Customizer, Hide / Show Most Elements, Multi Blog Layouts, Static / Fixed Header, Full Post then Grid Layout, Fullwidth and Boxed(set in pixels) Site Layouts, Classic Blog Layout, Grid Layout and more.
18. Flexblog – A WordPress Blog Theme
Flexblog is a stylish feminine WordPress theme Powered with WordPress Live Theme Customizer ideal for a variety of purposes including traditional websites, blogs and photography sites. The theme has a clean and professional design with Featured Posts Carousel With multi Option that will compliment your content and ensure your visitors will stick around and keep coming back to site. It has 6 layout options, custom background, header and featured images, custom widgets and threaded comments. It's also a mobile responsive WordPress theme which means the layout with automatically adjust to fit on all screen sizes and devices including iPhones, iPads and all other mobile devices.
19. Neptune – Theme for Food Recipe Bloggers & Chefs
Neptune is a clean, minimal and food blog wordpress theme for feminine. The attractive premium theme is built for restaurants owners, food critics, and food reviewers but it also has a versatile design making it suitable for a wide variety of different websites. Features include a mobile ready responsive design, 8 different colour options, a sticky navigation menu that stays at the top of the screen as you scroll down the page, a matching share on hover button, magazine layout options, featured images, theme options and more.
20. Solstice – A WordPress Blog Theme
Solstice is a beautiful feminine styled WordPress theme with semi magazine design. This premium theme has a versatile design for women business owners and could be used as a business website, blog, personal blog , fashion blog , lifestyle blog , travel blog , food blog , craft blog , mommy blog , tech blog , creative blog , photography ..etc. It is also would be perfect for wedding websites, event planning websites, women's business websites, personal blogs or anything else you can imagine. Features include a mobile ready responsive layout, colour picker to customize the colours, featured slider, one click auto updates, custom logo uploader, shortcodes (for columns, buttons, info boxes etc), and a theme options panel to easily set-up and manage the website.
21. Vixen Blog – Responsive DIY WordPress Blog
Vixen is a stylish but simple blog theme for female content writer. Vixen Blog includes a nice and clean looking portfolio design with unlimited color changing option. Some of the main features are Super fast loading, Google Web Fonts, Full width and boxed version, SEO optimized, Made for readability, Creative Design, Video, Gallery, Audio, Standard and Link Posts Templates Clean and Crisp Design, CSS3 Features and Animations and many more.
22. November – A WordPress Blog Theme
November is a very simple and minimalist child theme for the feminine wordpress blog owners. The blog style theme has a mobile friendly responsive design and takes advantage of the features like WPML Compatible, Child theme included, Responsive Design, Flexible Slider, Featured and Popular Posts tabs, Google Fonts selector for most elements, Color customizer for most elements, Custom widgets.
23. Chic Responsive Blog & WooCommerce WordPress Theme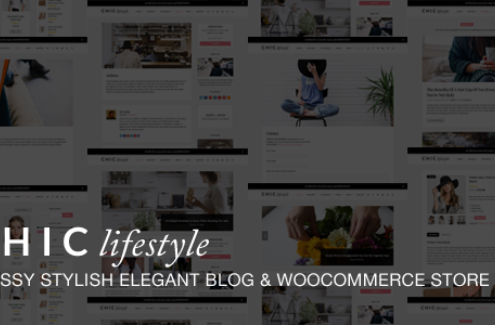 Chic is a stylish responsive blog / ecommerce WordPress theme for the blogs which has female touch. Chic would be ideal for websites about health and fitness, food and cooking, home and lifestyle, design and fashion or simply a personal website to share your life. The Chic theme features include a featured posts homepage slider (either show your most recent posts, or select a post category to feature), an alternative category style homepage (just drag & drop categories to reorder them), custom page templates (for archive, author and login pages), live WordPress theme customizer support and more.
24. Shasta – A Responsive WordPress Theme For Lifestyle Bloggers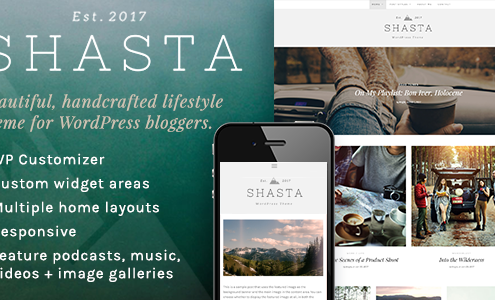 Shasta is a mobile responsive lifestyle magazine style WordPress theme for female travelers with a simple and easy to navigate design. Shasta is a stylish, featured theme that is great for lifestyle bloggers of all kinds, including feminine blogs, travel, writer blogs, personal, philosophical, creative types, musicians, and more. Custom galleries and post formats make it perfect for an artist's portfolio or photography site. Some of the key features include 4 front page layouts, 9 post styles including video and audio layouts, and tons of customization options packed into it's easy-to-use WordPress dashboard.
25. Pure – Fashion and Lifestyle WordPress Theme for Blogging
Pure is a beautiful blog WordPress theme for modern blogging content related to women and female creators. This is a premium looking theme and Makes has a modern, simplistic and flexible design that ensures your content will shine. It also has a heap of great customization options and other features to make it easy to setup and customize to suit your topic or niche.
26. Kloe – Fashion & Lifestyle Multi-Purpose Theme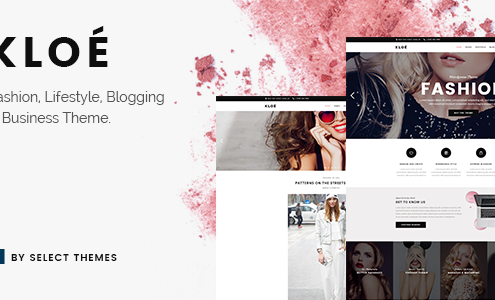 Kloe is a beautiful and stylish WordPress theme for blogs managed by women could be used for a wide range of purposes either as a website or a blog. The premium theme would be perfect for wedding and event planners, photographers, small business websites, or any other type of website needing a lovely feminine design. With an awesome collection of predesigned homepages, Kloe lets easily create anything you want, from a blog or portfolio to full online shops and more, No more coding required.
27. Hipsteria – A WordPress Blog Theme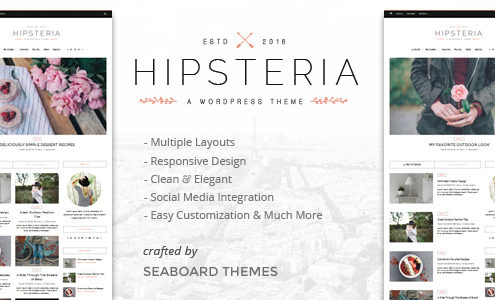 Hipsteria WordPress theme is a premium WordPress theme design for the female bloggers, business owner, and entrepreneur. The stylish and sophisticated theme which has a minimalist, airy and elegant design that ensures your content will shine. Its translation ready so you can easily translate your website with included pot file. You could use the theme for a personal blog, ecommerce store, food and recipe blog, fashion blog or anything else.
28. Charvi Coach & Consulting – Feminine Business WordPress Theme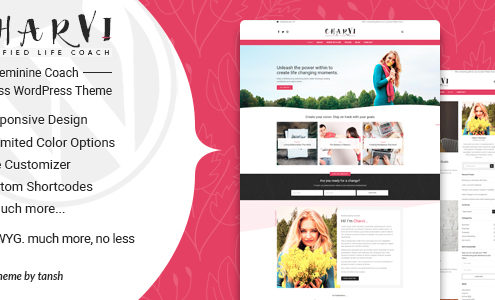 Charvi Coach & Consulting is an awesome feminine WP theme capable of hosting your blog, portfolio, recipes, or even an e-commerce store. This theme is so diverse, clean, and professional. It is fully responsive, has a scrolling menu, and can use Parallax effects. it is functional, modern and can do so much while keeping a clean, feminine design. Theme uses native WordPress Customizer. No coding skills required. Change colors, backgrounds, layout, show/hide elements with just one click.
29. LUCY – Elegant Multipurpose Feminine WordPress Theme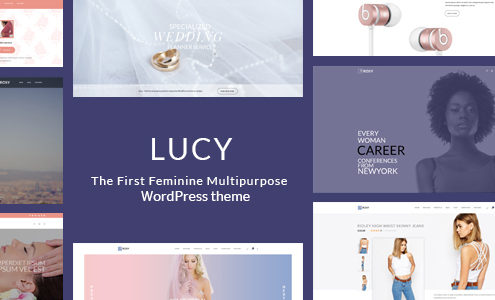 Lucy is an another showstopping WordPress theme for female bloggers. The brand new wordpress theme the business established by and for women are increasingly popular on the internet.This theme also uses space in a way that is aesthetically pleasing and current. The design is mesmerizing and will give you a feel of full effect and proportions of the layout, because they are very nice.
30. Tribe Coach – Feminine Coaching Business WordPress Theme
Tribe Coach is a fashion and lifestyle blog WordPress theme for female entrepreneurs. The premium theme has a beautiful and feminine design ideal for female bloggers. It features a mobile responsive design, and includes a hero header, sidebar widgets, multiple navigation bars, featured content blocks, advertising support, and many more.
Conclusion
We have tried our best to mention and coverup some of the Best Feminine WordPress Themes, Whatever your topic is, We hope you were able to find the perfect and ideal feminine WordPress theme for you! We have checked and reviewed each and every above mentioned theme personally, so you don't have to face any trouble. Hope you have liked the article. Thanks for reading!
https://gooyaabitemplates.com/download/Free-Blogger-Templates.png
0
0
Gooyaabi
https://gooyaabitemplates.com/download/Free-Blogger-Templates.png
Gooyaabi
2017-11-13 19:14:02
2019-10-04 18:13:40
30 Best Feminine WordPress Themes in 2018