WordPress Vs Blogger
The task of disseminating your thoughts, information and other useful reports was very difficult two decades ago. You had to be an experienced webmaster and web developer to perform the task of creating website and do the coding work. A little website often took months of time to get completed. Even, the errors in the coding made the issue more complex. Web developer had to consume a very long time in finding the coding errors and to correct it. These were the common reasons that majority of people put off their decision to share information which others wanted to read about WordPress Vs Blogger .
At that time, it was very difficult to make a website which looked good at various browsers such as Internet Explorer, Netscape, and Opera etc. The task was difficult due to time taking coding and manual development. That issue was more complex due to the limited availability of experienced web designers and coders who charged a huge fee for their services. They were so over burden with the work that you had to wait longer in order to take work from them. In short, the task of launching a website was very difficult, time consuming and costly.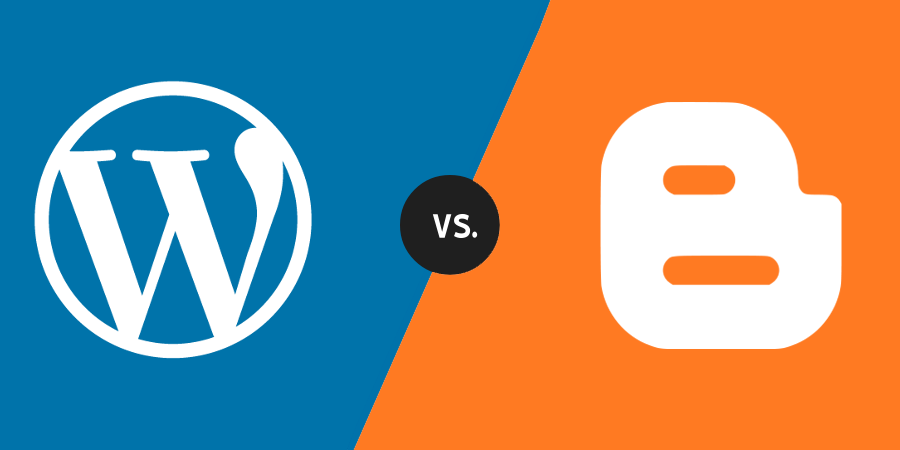 Blogger was launched in 1999 by a Pyra Labs and it was the first blogging platform at the time. So, it attracted the attention of the people in a very short span of time. Keeping in view the increasing demand of the blogger, Google reached Pyra Labs and acquired it from them in 2003 after 04 months of long negotiation. On the other hand, WordPress was launched in just 04 months after Google acquired the Blogger. It was initially launched with the brand name of b2/cafelog.
Blogging is a vast field and it can be done to serve various purposes. For bloggers, there are numerous choices available as to which blogging platform they could use for their blog. WordPress, Blogspot, Tumblr, Wix, Site123 are some of the most popular platforms for the bloggers. But the large populations of the bloggers use WordPress and Bloggers. In this article, we will try to explain which blogging platform is better, WordPress or Blogger. Though, the debate is long but we will try to make the comparison easy for our readers.
WordPress Vs Blogger in 2018 Reviewed and Compared
Simplicity Wins the Race
Blogger is an easy to use platform with some basic functionality. It is best for a newbie bloggers who do not need advanced features and just want to make their first entry into the blogging arena. You can create a new post by just typing the title and content of the article. The rich text editor allows you to do the necessary formatting to your posts without too many efforts. If you know how to work in MS Words, then it would be very easy for you to work in blogger as well. You can save the draft or publish the article right way without worrying about anything else. If you are not blogging for money purpose, then Blogger is the right choice for you.
WordPress is difficult to use as compared to blogger. Though, you can create a new post just after sign-in to the WordPress Dashboard, but when you enter into the new post page, there are several options such as category, tags etc which a novice user may not understand easily. You have to give sufficient time to learn this platform working to get maximum advantage. So, you need to read online tutorials, watch YouTube videos and take support from a person who is already using WordPress from some time. So, WordPress needs some time from you before you could launch a blog. Even after launch, you have to do many things so that it could look professional to the visitors. We have seen many blogs which shows default calendar, admin links and other default widgets because newbie bloggers are not aware of how to do this.
Winner: Blogger
Economical Aspect
One of the key factors which influence the decision of the bloggers is the cost associated with launching a blog. New bloggers may not afford to pay a high amount of money associated with web hosting and domain. Domain cost may not be high for many bloggers as it cost you few dollars. However, the hosting fees may be high for a new bloggers as it may cost you hundreds of dollars over a year. One may argue that a cheap cost web hosting can be used but it will not be reliable. As so many down times and frequent error will hit your site badly in the long run. Fortunately, blogger offers free blog hosting and even a free sub domain. You can upload your content and multimedia stuff over blogger web space and you do not need to worry rest of the thing. Your data will remain safe without any tension of server error and data lost. The best thing is that you do not need to pay even a single penny. If you want more professional look for your blogger's blog, you can do so by buying a top level domain and use this with blogger account. In this case, you just need to pay an annual fee for domain renewal which is not a bad deal at all.
WordPress also offers a free blog hosting at WordPress.com, but this is not as reliable as blogger. It lacks many of the professional touch which blogger's free blog services offers. We have used both these services and found blogger as one of the best professional free platform for bloggers. However, if you want to enjoy the full power of WordPress, you have to use self hosted WordPress blogs. In this way, you can turn your blog into a wonderful blog which users like to visit again and again. Most popular news websites of the world are now using WordPress but due to their complexity and data requirement, WordPress is good. But for users like us, blogger is the best.
Winner: Blogger
Cross browser support
Cross browser functionality is one of the most important metric in order to evaluate the performance of a website or blog. It gives a sense of professionalism and yields massive amount of traffic from users using various types of browsers all over the world. We have seen Google places a lot of high confidence to blogs who support various browsers used by visitors all over the world.
Blogger works great equally in all web browsers such as Mozilla Firefox, Google Chrome, Opera and Safari. That is why it is regarded as the number one choice by many bloggers around the globe. Not just that, which screen resolution you are using, it automatically adjust to give the same look in each resolution.
WordPress though offers the same feature but it greatly depends upon the theme you are using for your blog. So, if you are using a theme which does not support a particular browser and screen resolution, you blog will look awkward and visitor will close your blog without reading. So, this is bad for WordPress. That is why, a blogger has to choose a theme which could run smoothly in all major browsers and appear unique in each screen resolution. This also requires a lot of time, patience and customer's perspective in order to take advantage of the power of this blogging platform.
Winner: Blogger
Mobile Friendly
The number of mobile users has increased tremendously over the past few years. Now-a-days, small kids are seen watching cartoon movies over the smart phone without the help of their adult. Such rise in the use of mobile phones has also affected the development of mobile friendly blogs and websites. This trend has also reflected the browsing experience and the way people use various gadgets to access their favorite websites and blogs. Even, students give more importance to access their educational contents via mobile devices instead of desktop computers and laptops. The use of desktop computers has reduced a lot in recent years. People want mobility and they cannot afford to sit at one place to complete their task. The trend has increased due to the mobility of mobile devices and easy to carry on these in the pockets and hand bags. In order to meet the needs of the mobile users, blogger offers an exciting feature which allows your Blogspot automatically generate its mobile version without any effort from your end. The result is that visitors enjoy smooth, superior and exciting browsing experience even on a mobile device.
On the other hand, WordPress comes with different themes which may or may not be made keeping in view the mobile user's requirement and mobile friendly version. We have seen many blogs do not offer mobile version, when you access the blog on a mobile device, the blog takes a long time to load. Even if the blog loads, the structure of the blog become so ugly that visitor finds it reasonable to exit from the site. In order to make your blog, mobile friendly, you have to take support from a 3rd party plug-in or you can choose a theme which automatically generates a mobile version of the blog on the fly when it is accessed from a mobile gadget.
Winner: Blogger
Monetization
One of the number one reasons for building up the blog is the generation of revenue. About 95 % of the blogs in the world are made just for the sake of making money. It is the mostly liked full time profession among new generation. As a result, every day, thousand of blogs are created every day. You can become one of the millionaires by making one blog that provides unique and genuine information on a specific topic. In order to earn massive amount of revenue from your blog, you can use various CPC (cost per click), CPM and affiliate marketing networks. Google Adsense is the best CPC (cost per click) advertising network for website owners and bloggers. You can earn decent income every month if your blog generates a massive amount of traffic. Apart from this CTR (click through rate) should be within the range of 2 to 3 percent. Otherwise, you will not earn good income even you have massive amount of traffic. In order to enjoy a good CTR (click through rate), you need to place the Adsense code at a place where visitors interact with your content frequently. Your Adsense ads should be matched with your blog theme and the font color should be same as that of your blog's content. This ensures that your ads amalgamate with your content and become part of your blog.
When it comes to CPM advertising, you can earn from UberCPM, Advertising.net, Conversant media, RadiumOne and Adbuff etc. All these CPM advertising networks have great potential and can yield a good amount of revenue for your blog. You have to give a try to each one to see what is most beneficial for you. These networks pay when you reach maximum threshold which is ranging from $ 25 to $ 100.
Fortunately, you can easily integrate your Adsense advertisement right from the blogger's administration panel. On the left side of the administration page, you will find the Earnings link. Upon clicking the link, you will find a page where you are required to click the Signup for Adsense orange color button. If you already have an Adsense account, you just need to login to your Adsense account and link it to blogger and voila you are done. The entire process is quite simple, easy and user friendly. You do not need any 3rd part plug-in to fulfill the task of integrating Google Adsense code into your blog.
WordPress does not provide the facility to integrate Google Adsense advertising code into your blog. You have to use one of the many plugins available to fulfill the task such as Google Adsense plugin, Quick Adsense and WP IN Post Ads etc. However, if you are advanced level knowledge of the WordPress, you can do the same task by editing the coding files of WordPress yourself. But, this work takes time and you have to keep backups before making any changes to the WordPress files. So, blogger is much better option than WordPress because you do not need to mess with coding and other 3rd party's plugins.
Winner: Blogger
Search Engine Optimization
Search engine optimization (SEO) is the backbone of any blog or website. It turns a web property into success or failure. This is not an easy task and you have to be very vigilant, smart and clever in your SEO strategy otherwise you have to face Google animal's penalty which will render your online presence into a dessert. So, in order to build your blog or website, you must follow white hat SEO strategies and let the blog build itself organically. By that, you will get results after a long period of time but these will be forever. When we talked about blogs, SEO (search engine optimization) involves on-page site optimization which means that you have to improve your blog's page factors in order to achieve high search engine score.
Blogger is a Google's property and as a result, with little bit of efforts in order to improve SEO score of a blog, you can achieve high ranking in the search engines. However, as you may not use your own coding or plugins with blogger, there are plenty of features that you will face in SEO such as you may not use plugins such as Yoast or All in On SEO pack to maximize the SEO score potential of your blog.
On the other hand, WordPress is awesome from this angle and offers a lot of support for improving SEO score of your blog. You can take support from Yoast SEO or All in One SEO plugins to harness the power of on-page SEO factor for your WordPress blog. Best of all, the top SEO plugins for this blogging platform is free for everyone.
Winner: WordPress
Layout and Style
The layout and style of any website and blog put a great impact over the visitors. Actually, it is the first thing which visitors see when they load your blog. If it is appealing, simple and fulfills their criteria, then they will like to visit again in the future. Similar is the case with blogs and websites. When we talked about Blogger, you can design your own layout by click the layout link on the left side menu. Here, you can add gadgets at various places of the page header, footer and sidebar. Similarly, you can choose the style or theme of your blogger's blog by clicking the theme link found just below the Layout link. Blogger offers around 50 themes classified under 11 categories. It is your choice to choose a theme that best describes your blog. You can customize a theme before applying to your blog. Apart from this, there are millions of free and paid themes available for this platform over the internet which you can used to give a decent look to your blog. The use of third party's theme is not a difficult problem. You just need to search your favorite theme and download it. After that, go to theme page and click backup/ restore gray color button at the top of the page. Upon doing so, you will be required to upload your new theme xml file and you are done.
WordPress is a blogging platform which also has huge amount of themes both paid and free. You have a huge list of themes that you can use to give a unique look to your WordPress blog. However, you have to upload the theme to your own server to perform this task. For this, you need to click the appearance link in the left side menu under WordPress administration panel. As compared to Blogger, the numbers of free WordPress themes are countless. So, we can say that WordPress is far better option than Blogger.
Winner: WordPress
Safety & Security
The number one priority of any bloggers is to have their blogs safe and secure from hackers and denial of service attacks (DOS). For a newbie and non-technical blogger, this is not an easy task. We can say that it is outside the scope of his or her skill. He or she may not do anything to combat these types of safety and security issues. A large portion of bloggers may not afford to hire an expert to counter these types of attacks. Fortunately, this is not a big issue if you are running a blogger's blog as it is the property of Google and no one can protect your blog from hackers and DOS attacks better than Google itself. So, it is a very satisfied feeling that blogger's blogger feel about their blog's safety, security and integrity.
On the other hand, WordPress blogs are handled by bloggers themselves. The task of keeping their blogs safe and secure from intruders is not possible for them. Bloggers who earn massive amount of money from blogs can hire the experts to avoid such safety and security issues. But newbie bloggers and other bloggers may not afford to hire such a highly priced expert. So, the safety and security of their WordPress blogs get compromised. Though, there are various plugins available which bloggers can use to deter these sorts of threat. But these plugins may not be the alternate of a highly skilled expert. So, from safety and security aspect, Blogger wins the race.
Winner: Blogger
No Comment Moderation
When you blog, the readers get into touch with you via comment section. They ask different questions, give their opinions and this creates a positive atmosphere for other readers to learn more about the topic. This leads your article to become viral in very short span of time. However, when there are positive comments about your article, some people use abusive language which you may not afford to appear on your blog. You need a system of comment's approval, rejection and editing the comment to make it more meaningful. Unfortunately, blogger does not offer these types of options for their bloggers. You can only enable or disable the comment over your blog and that is it. You have no option to edit the comment & delete the comment which is the most demanding feature in many new blogging platforms such as WordPress and Drupal. So, it is one of the worst lacking of the blogger and Google should think about it so that majority of serious bloggers may think to join blogger to satisfy their blogging fever.
On the other hand, WordPress offers the comment's moderation in an excellent way. You can approve, edit and delete the comments. As you know, comment systems are the best tools for spammer to send bulk quantity of comments using automated tools. They use this tactic to build black hat back links to improve their short term SEO score. By WordPress comment system, you can control the spammer's activities. Plugins such as Akimet is a wonderful tool that automatically filters out spam comments. So, you do not need to pay attention to these useless spam comments. Time is precious and you need to waste it on things which can revert back some benefits to you and your blog. By Akimet, you will be moderating only the good comment that can contribute to the betterment of your blog. Apart from this, you can insert Facebook commenting system into your blog posts using third party's plugin. As you know, Facebook users are massive in amount, it is a nice strategy to engage FB users into your blog post so that posts become viral in no time. So, WordPress beats the Blogger in comment system by a big margin.
Winner: WordPress
Limited Picture Storage
As you know that multimedia has changed the way information is created and presented to the internet users. This has affected the blogging field as well. Now, the blogs which use multimedia item such as images and videos get visitor's attention quickly as compared to the one that use only text based posts. Apart from this, blog posts which contain videos and images often engaged visitors over the post for a longer period of time. This reduces the bounce rate of your blog. Bounce rate is one of the metric for better search engine ranking and to drive massive amount of traffic. The lower the bounce rate percentage, the higher trust search engine will place to your blog. As far as blogger is concerned, it does not support you too much in this case as it offers only 01 GB storage space for photos. In this era of multimedia, this is nothing for a blogger. That is why, majority of bloggers are migrating from blogger.
On the other hand, WordPress self hosted blogs are your property, you have the complete freedom as what you want to share with your visitors. No matter it is a heavy image slideshow or a video, you can do so. This is not possible in blogger. So, from this aspect, WordPress defeats the Blogger by a great margin.
Winner: WordPress
Lack of Ownership
The things which you own are beneficial for you. It is just like home where you live. If you are the owner of the house, no one can expel you from your home. Similarly, if you have blog at your own web space, there is no one that can close it. Blogger as owned by Google has full control over your blog. You upload and share your content with them. But you have no control over there. Blogger staff can turn the switch off and your blog will never will accessible. They will not listen to your questions and queries.
On the other hand, self hosted WordPress blog is your property. You have full power to control, operate and manage the blog. Only, you can close your blog for any reason or for any period of time. So, from this aspect WordPress is the better choice for you.
Winner: WordPress
Page Size
Due to the use of multimedia, the page size of the blog post gets heavy which is quite common now-a-days. Though, efforts should be made to reduce the size as much as possible but sometimes, it becomes very difficult to fulfill this criterion. With blogger, you have the limitation for the page size. Your page size must not exceed 1 MB as this is one of the requirements under blogger's terms of use. This is the major drawback and is regarded as the most negative points in today's era of blogging industry.
On the other hand in self hosted WordPress blogs; you have complete freedom to have a page size of your choice. You are free to use as many photos and videos as you want without worrying about the page size. But keep in mind, Google owns the Blogger and one important factor for SEO metrics is that the page load time must be within 3 seconds. If you use page size within 01 MB, your page load time will be lower than your competitors and you may beat your competitors over the basis of better SEO score and better searching engine ranking position. So, from technical aspect, this is the positive point.
Winner: Blogger
Conclusion
Whether you are blogging on blogger or on self hosted WordPress blog, there are associated benefits and drawbacks. It is up to you which one suits you. You can evaluate your choice by following our detailed guide provided above. As far as our point of discussion is concerned and keeping in view the detailed WordPress Vs Blogger analysis, it is quite clear that the benefits of bloggers are far better than the WordPress that is why we recommend you to go with Blogger.
https://gooyaabitemplates.com/download/Free-Blogger-Templates.png
0
0
Gooyaabi
https://gooyaabitemplates.com/download/Free-Blogger-Templates.png
Gooyaabi
2018-01-01 21:46:42
2019-09-26 04:11:31
WordPress Vs Blogger in 2018 Reviewed and Compared