How to Choose the Best Blogging Platform
Blogging is fun when you have passion to write for your topic of interest. It is the passion that depicts in your writing and could turn an ordinary writing into a master piece. In order to share your blogging skills, you need a blogging platform that enables you to post and publish your articles so that rest of the world can read it via your blog address.
If you decided to start you blog, then the first problem that you will face is the selection of the blogging platform. There is a long list of blogging platform, so in this situation it becomes very difficult to choose one out of many. One platform that suits one blogger might not be suitable for you. So, the deciding factor can be analyzed when we discuss benefits and drawbacks of every platform.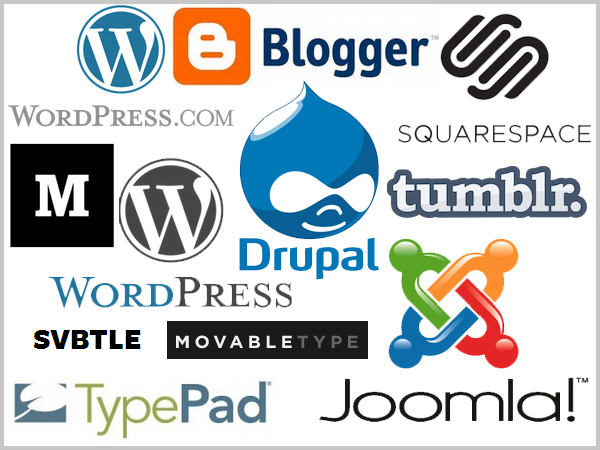 Factors affecting your choice
In order to choose a particular blogging platform, you need to focus on following points:
Your experience – Experience matters most in the blogging field because you will be working alone in most of the cases. There will be no other person who will teach you how to use a particular platform. All you have to do yourself from creating category, posts and adding SEO details etc. That is why, if you are newbie it is suggested to start with an easy to use blogging platform. You may switch or upgrade to a more advanced level platform in the future if your blog requires this.
Design and Layout – It is the layout and design that attract the visitors to your blog. If the design and layout is ugly, visitors will avoid to come again. They will try to find the same information that you departs from another blog. So, if you are going to choose a particular platform, make sure that it has appropriate themes to fulfill your expectations.
Free Stuff – Apart from above factors, you need to consider how much support a particular platform offers. One way to judge this is to check whether the platform has free resources available in the form of themes and plugins. If it is, then this is the most important benefit you can enjoy in your blogging career.
How to Choose the Best Blogging Platform in 2018
Best Blogging Platforms
As we have discussed that there are numerous blogging platforms available. In order to choose the best one according to your requirement, we will cover each one in great detail:
WordPress.Org
This is the best blogging platform for beginners and advanced bloggers. Though, it will not take time to learn the overall functionality of the platform, but still many newbie blogger find it difficult to use and apply over their visionary blog. In order to use this one, you need to have a web hosting space where you can install this platform. Mostly, all web hosting providing companies selling Linux hosting provide the automatic installation of WordPress. If you are using Cpanel hosting, then you can install WordPress by clicking the Softaculous Apps Installer link on the main page. Once the new page opens, click the WordPress by clicking the Blog link in the left navigation panel. Fill out the relevant details and you are done.
Pros
It is the number of blogging platform all over the world and is trusted by many big names in the industries.
It is available to download and install free of cost. Such a best blogging platform without any cost is definitely a nice gift from the developers.
It is backed by millions of free themes and paid themes. This enables you to give a unique look to your blog, no matter to which category your blog belongs.
It is supported by around 50,000 free and paid plugins that can turn your blog into a membership site, wallpaper site or magazine website etc. The features are infinite and you can be a real game changer for your online business.
It is a light weight blogging platform that makes your blog's loading time very low.
It is a search engine friendly platform and you can easily rank your blog posts for particular keywords with little efforts as compared to the other blogging platform. Plugins such as YoastSEO and All in One SEO plugins are the best tool to outrank your competitors in the search engine ranking position.
It can be installed on almost every web hosting. Even, we have tested this platform on free web hosting and it worked greatly.
You can create multiple users with this platform with varying roles such as administrator, subscriber, contributor, author and editor. By creating users with varying roles, you ensure that a particular user is only restricted to perform certain assigned task and does not play with rest of the options. This is the best security option because other users may intentionally or inadvertently play with your blog posts, settings and other settings.
Cons
It is a complicated platform and for a newbie blogger, it takes time to understand.
Though, there are millions of free themes and plugins available for WordPress, they may increase the size of your page that could result in slow page load time.
You need to take up regular backups of your data and database.
You need to make plenty of changes and install various plugins to customize the blog according to your choice. This takes sufficient period of time even for advanced users. When it comes to newbie bloggers, you can imagine yourself the waste of time during his or her learning periods.
By default, the URLs in this platform do not generate search engine friendly, you have to make them SEO friendly by going into permalinks from the Setting link in the left side navigation menu.
By default, the login panel of all WordPress installation admin panel is common. Most of the bloggers do not change this path and this causes login attempts from hacker. If hackers successful able to login to your administration panel, they can play with your blog according to their wish.
Blogger
It is a free blogging platform from Google that acquired it in 2003 from Pyra lab. Since, then it has attracted the attention of most of the bloggers worldwide. Actually, it is one of the very first blogging platforms in the industry. A large population of bloggers all over the world uses this blogging platform to share content, express their experience and impart education. For newbie bloggers, it is considered as the easiest platform to start the blogging career. It is a real competitor of the famous WordPress blogging platform and beat it at several places due to many benefits, it offers to its users or bloggers.
Pros
It is 100 % free to use for everyone. You just need to sign up with them and start publishing your contents. If you have a Gmail or any Google account, you can use the same login credentials to sign in into the blogger. It is one of the main products/ services, Google offers to its users all over the world without charging any fees. It is grabbing the large population of the world using blogger service.
In order to create and publish your articles, you do not need to know any advanced skills. If you can type using the keyboard and, this is enough to start the blog with blogger.
The blogger platform is secure enough that it can easily counter attack any malicious activities of the hackers or robotic attack. This is possible due to Google advanced level security features that is almost difficult to cross over.
Though, the free templates are available in short quantities but SoraTemplates is the best place to download free and premium templates for the blogger.
It is an easy task to rank your blog in search engines such as Google. As blogger is the property of Google, definitely it gives a lot of importance to blogs created using its own blogging platform instead of blogs created using other blogging platforms.
Cons
It is a very basic level blogging platform. You may not use advanced features such as membership area under this platform,
It has been a very long time we have not seen any update in the blogger. On the other hand, WordPress frequently releases new updates to keep its platform secure, reliable and market focused.
The templates available in the bloggers are very few and very simple. Though, you can install third party templates but there are very few resources available on the internet with good quality.
Google has the sole discretion to suspend your blogger's account. This put your blog under severe threat. You may not do anything in this regard as they do not reply to individual emails. Though, the chances are very rare but Google has taken this step for one of its service called Feed burner. So, anything is possible in this world. If you blog is your precious intangible asset, then you need to think about this seriously.
There is a lack of support to use search engine optimization (SEO) tags under this blogging platform. Unlike WordPress that has support of Yoast SEO and All in One SEO plugins, blogger does not provide any kind of support. That is the main reason of the criticism faced by this platform from blogging gurus.
You may not host blogger on your own web hosting space. You are bound to stay with Google's own server at any cost. This is the factor Google should think about it to beat its rival altogether
Wix
Wix is a hosted website service that permits you to build the website and blog using simple drag and drop tools. It is a very basic service that everyone one can build his or her online presence within few minutes.
Pros
It is a very easy task to launch a blog. There is also a free plan available for newbie bloggers as well but it will place an advertisement over your blog.
The simple drag and drop tools let you greatly in the development of the blog. You do not need to learn any coding at all.
There are dozens of free templates that you can use to give a unique look to your blog. This ensures your blog remains unique and stand out from the cloud.
The setup process is very simple and not lengthy. That is why; it suits a newbie bloggers very well from many aspects. There is no need to spend a lot of time in learning the tools available at Wix.
The speed of the servers is very good which works greatly in reducing the page load time of your site or blog. This is an important factor in determining your SEO score of your blog.
You can integrate e-commerce facility in your blog under paid plans of Wix.
Cons
The service charges or fees are quite high than rest of the blogging platforms.
The themes or templates are not enough that is the main hurdle in giving the unique look to your blog. Not just that, once you select a template for your blog, you cannot edit it. Wix should give proper attention to this feature. But Wix is also the new entrant in the industry. Sp, it will take time to overcome this issue.
Though, you can start a blog under free plan but it offers very limited features that are far below than that of bloggers. For professional blogging, this is not a viable solution and may not be the best solution to take care of the requirements of customers and visitors.
E-commerce facility is available only for paid plans but still there are very limited options available which may not suitable for a professionally designed e-commerce store. If you are a small entity, you may not use these services under free plan, you have to upgrade to a premium plan to avail the e-commerce facility.
Site123
Site123 is also a website building service whereby you can also create a blog. Like Wix, it is easier to develop a website or blog using drag and drop features. At a cost of just $ 9.80 per month, you get 10 GB space and 5GB bandwidth. This is too much for a medium and mid size business. You can link your domain as well to Site123 servers as well. If you are just taking start your blogging career, you can choose the free package where you do not need to pay any amount. This is best for a newbie bloggers who are at learning stage. But when we compare it with other blogging platforms, Blogger is still the number one choice.
Pros
It is quite easy for newbie users. You can launch a website within an hour after signing up with them.
It is also available free of cost.
It allows bloggers to use their own domain name.
The website and blog creation is fun because drag and drop tools.
Cons
It has very basic functionality. So for advanced bloggers, this is not a viable option.
The paid version is quite expensive for a low budget project.
It provides very limited templates to be used on your blog. Unlike Blogger, you may not be able to use third party templates.
Tumblr
Tumblr has changed the concept of blogging too much. In fact, it has brought the concept of micro blogging in the blogging industry. Best thing about this blogging platform is that it allows you to follow other blogs in Tumble network and re-blog it. The built-in social media sharing options are exciting features.
Pros
It provides an opportunity to create a free blog.
It is a nice micro blogging platform and one of its kind in the industry.
It is a very basic platform and may not be the best solution,
It hardly matches the services Blogger and WordPress offers.
You can give a professional look to your Tumble blog by adding your own top level domain name. You just need to set your domain name server to that of Tumble.
Cons
This platform lacks the templates and themes that are necessary to give a unique look to your blog.
Blogs created using this platform do not give a professional look.
There is no option to convert your existing Tumble blog into Blogger or WordPress. So, this is very negative aspect as blogs have to be migrated to one of these two blogging platform in the future.
Conclusion
It is quite clear from the above discussion that Blogger and WordPress is one of the best blogging platform for new as well as advanced bloggers. However, if your blog is complicated, then go for WordPress, otherwise there is no reason to ignore blogger. So, in our opinion you should target blogger as your blogging platform and attach your top level domain to maximize the power of Google property.
https://gooyaabitemplates.com/download/Free-Blogger-Templates.png
0
0
Gooyaabi
https://gooyaabitemplates.com/download/Free-Blogger-Templates.png
Gooyaabi
2018-01-14 09:04:52
2019-09-26 04:04:29
How to Choose the Best Blogging Platform in 2018