Best WordPress Security Plugins 2017
Being a WordPress user you should always concern about your blog security, because the blog which you own is like a precious ornament in the internet, and as you know that we always protect our precious stones and jewelry getting stole by thieves. So just like that you blog needs protection too from unknown thieves and intruders and there are a lot of providers and services which provide security for blogger websites including various plugins.
WordPress itself is very protected and built with secured structure, but it doesn't mean that it can't be hacked or harmed. There are a lot of ways and factors by which your website can be hacked and weak password is one of them.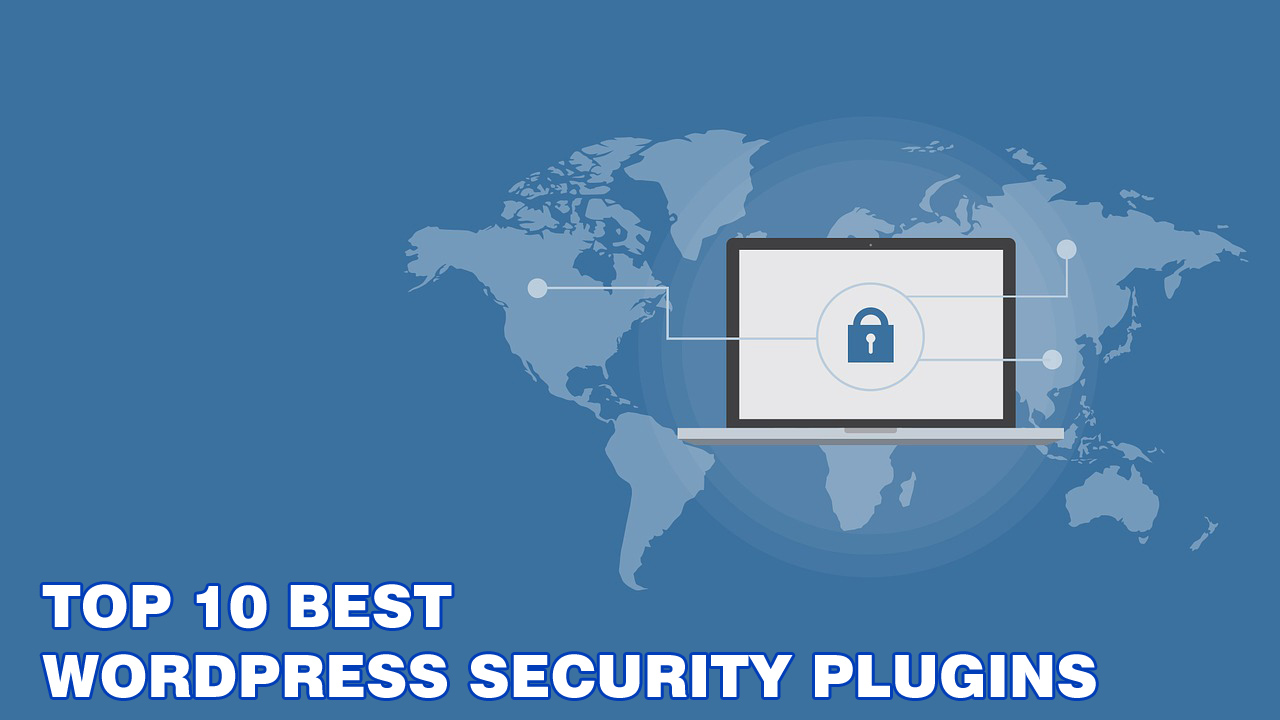 Its always better to set an additional cover of safety to your blog. Just to take care of your concern we have came up with Top 10 Best WordPress Security Plugin.
*Important: Back up your site before using any of these plugins in case there is a problem or compatibility issue with other plugins.
Best WordPress Security Plugins 2017
1. All In One WP Security & Firewall
Just like its name it has everything in it. This plugin is designed and written by experts and is easy to use and understand. The All In One WordPress Security plugin will take your website security to a whole new level. It reduces security risk by checking for vulnerabilities, and by implementing and enforcing the latest recommended WordPress security practices and techniques. Its 100% free and it doesn't slow down your website by a fraction of second. The plugin will also detect if you have any WordPress user accounts which have identical login and display names. Having accounts where display name is identical to login name is bad security practice because you are making it 50% easier for hackers, because they already know the login name. It provides User Accounts Security, User Login Security, User Registration Security, Database Security, File System Security, Htaccess And Wp-Config.Php File Backup And Restore, Blacklist Functionality, Firewall Functionality, Brute Force Login Attack Prevention, WhoIs Lookup, Security Scanner, Comment SPAM Security, Front-End Text Copy Protection, Regular Updates And Additions Of New Security Features etc.
2. WP Antivirus Site Protection

WP Antivirus Site Protection by siteguarding is a security plugin, which helps you to inspect/prevent and remove harmful viruses and doubtful codes. It provides the facility to deep scan of every file on your website. It detects backdoors, rootkits, trojan horses, worms, fraud tools, adware, spyware, hidden links, redirection etc and does every appropriate action to solve them. They update their database on daily basis and every quarantine or malware which will be detected, you will get a notification directly in your admin area or through email. It also provide brute force protection.
3. Google Authenticator
Google Authenticator or miniOrange Two Factor authentication gives an extra layer of security to your wordpress accounts. Just like its name it follows Two Factor Authentication process which will protect your website from hacks and unauthorized login attempts.
Two Factor Authentication means that the plugin will follow two different types of authentication during login and one of them is OTP verification. You can use various methods to login on your website like Username, Password and Two Factor or Username and Two Factor. Also the protection can be set according to roles and its very easy to deploy within in minutes and like others it can work on any wordpress themes.
4. WP Security Ninja
WordPres Security Ninja or Wp Security Ninja is a light weight blazing fast security plugin for your WordPress site. It scan your website for any threat and takes initial action to fix them with its auto fixer. There are different types of scanning process including core scanner, malware scanner, events logger, scheduled scanner etc, which will works with a simple click.
This is a fast loading plugin and will not affect your site speed unless its scanning, but you can't feel any drastic change in loading speeds. It works with almost every single theme and plugin available on the internet except security related ones.
5. iThemes Security

iThemes Security plugin previously known as Better WP Security is a security plugin developed by iThemes. This plugin provides you more than 30+ methods to protect and secure your wordpress website. iThemes is better known for their easy to setup themes and plugins and iThemes security is not an exception.
You can easily setup two factor authentication with this security plugin to give an extra protection. It also protects your site from spammers by adding Google reCAPTCHA. It gives you access to force user to change password after certain time or immediately.
6. Sucuri Security
Sucuri security is a free to use webiste monitoring plugin. It provides different type of monitoring and auditing for your WordPress website like Security Activity Auditing, File Integrity Monitoring, Remote Malware Scanning, Blacklist Monitoring, Effective Security Hardening, Post-Hack Security Actions, Security Notifications and Website Firewall (Premium). It monitors for the activities which can harm your website. Sucuri is an advance plugin and requires some coding knowledge so that you can easily analyze the provided information.
7. Brute Force Login Protection

Brute Force Login Protection is a WordPress website security plugin that limits the number of allowed login attempts using normal login form. It also limits the number of login attempts using Auth Cookies. You can manually block or unblock any suspicious IP or even white list it. It also delay's the process after failed login to prevent the brute force attack. You can set a custom message which will be displayed to the blocked users.
8. Acunetix WP Security

Acunetix WP Security is a free to use WordPress Security plugin that can prevent you site from getting hacked or other vulnerabilities. It also adds an extra level of security by providing password protection, file permission, database security, version hiding, WordPress admin protection and removes WP generator META tag from core code. This is a Multi Site ready plugin and can be used in one or more websites. It also helps you to take Easy backup of WordPress database for disaster recovery. This plugin add's additional option in removal of various things like error-information on login-page, wp-version, except in admin-area, Really Simple Discovery meta tag, Windows Live Writer meta tag, core update information for non-admins, plugin-update information for non-admins, theme-update information for non-admins (only WP 2.8 and higher), URLs from scripts and stylesheets only on front end. Disabling of database error reporting (if enabled) and PHP error reporting is very easy task with the help of this plugin.
9. Wordfence Security
Wordfence Security is made by wordfence and works constantly in their updated Threat Defense Feed, their Web Application Firewall stops you from getting hacked. Wordfence Security is Multi-Site compatible and includes smartphone Log-in which permanently secures your WordPress website from brute force attacks. Wordfence Security has some quality features such as WordPress Firewall, Blocking Features, WordPress Login Security, Security Scanning, Monitoring Features, Multi-Site WordPress Security, IPv6 Compatible, Major Theme And Plugins Supported etc. It also includes a free learning center where you can learn about security and prevention tips.
10. VaultPress

VaultPress is a real time backup and security service made by Automattic. The same organization which is responsible for the operation of millions of sites on WordPress.com.
VaultPress is now powered by Jetpack and effortlessly backs up every post, comment, media file, revision, and dashboard setting on your site to our servers. With VaultPress you're protected against hackers, malware, accidental damage, and host outages.
Conclusion
Being a website owner it is our responsibility to protect our property from hackers and intruders. The safety and security of our website, totally rely on our shoulders. So it's our duty to protect each and every content, words and even letters. The above plugins are the best in class and they does what they have promised to do but still if you will be little aware and protected by yourself there will be absolutely no chance of hacking into your site.
https://gooyaabitemplates.com/download/Free-Blogger-Templates.png
0
0
Gooyaabi
https://gooyaabitemplates.com/download/Free-Blogger-Templates.png
Gooyaabi
2017-08-27 20:29:10
2019-09-27 01:21:36
Top 10 Best WordPress Security Plugins in 2017 To Protect Your Site